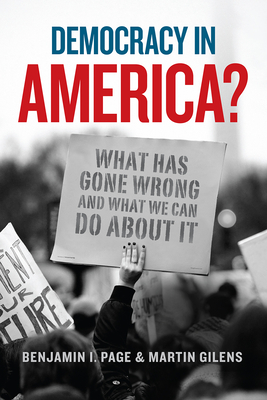 Democracy in America?
What Has Gone Wrong and What We Can Do About It
Hardcover

* Individual store prices may vary.
Other Editions of This Title:
Paperback (4/2/2020)
Description
America faces daunting problems—stagnant wages, high health care costs, neglected schools, deteriorating public services. Yet the government consistently ignores the needs of its citizens, paying attention instead to donors and organized interests. Real issues are held hostage to demagoguery, partisanship beats practicality, and trust in government withers along with the social safety net.
 
How did we get here? Through decades of dysfunctional government. In Democracy in America? veteran political observers Benjamin I. Page and Martin Gilens marshal an unprecedented array of evidence to show that while other countries have responded to a rapidly changing economy by helping people who've been left behind, the United States has failed to do so.  Instead, we have actually exacerbated inequality, enriching corporations and the wealthy while leaving ordinary citizens to fend for themselves.
 
What's the solution? More democracy. More opportunity for citizens to shape what their government does. To repair our democracy, Page and Gilens argue, we must change the way we choose candidates and conduct our elections, reform our governing institutions, and curb the power of money in politics. By doing so, we can reduce polarization and gridlock, address pressing challenges, and enact policies that truly reflect the interests of average Americans.
 
This book presents a damning indictment. But the situation is far from hopeless. With increased democratic participation as their guide, Page and Gilens lay out a set of proposals that would boost citizen participation, curb the power of money, and democratize the House and Senate. The only certainty is that inaction is not an option. Now is the time to act to restore and extend American democracy.
 
Praise For Democracy in America?: What Has Gone Wrong and What We Can Do About It…
"Provocative suggestions for how to revive democratic practices through citizen action and institutional reform alike."
— Kirkus Reviews
"If you are looking for ways to join the reform effort, reading this important book is a useful start."
 
— Christian Century
"What an accomplishment!  The book is crystal clear, cogent, and builds beautifully on Page and Gilens's vital contributions over many years on influence and power in the US political system. A wonderful and important book, backed by very important and cutting-edge research. I will recommend it widely."
— Jeffrey D. Sachs, Columbia University
"Brilliant, indispensable, and highly accessible."
— New York Journal of Books
"Outstanding research. . . . It will help power the movement to reestablish a government of, by, and for the people."
— US Representative John Sarbanes
"There is an urgency to the project of repairing America's democracy. This book is the most important contribution so far. Powerful, comprehensive and original, it gives every American hope and a map--which is all this democracy has ever needed."
 
— Lawrence Lessig, Harvard University
"In this important and riveting book, Benjamin Page and Martin Gilens reveal why America has failed to help those who have fallen behind and allowed inequality to explode. The solution isn't to redistribute wealth from the have-mores to the have-lesses. It's to redistribute political power to everyone. A must-read for anyone who cares about the future of America."
— Robert B. Reich, Chancellors Professor of Public Policy, University of California, Berkeley
"Our democracy is in crisis. This clear-eyed, thoughtful, and accessible book offers a roadmap for challenging the political power of the wealthiest Americans and corporate interests. Only a broad and persistent social movement, it argues, can make our government responsive to average Americans. A welcome and important work."
— Anna Galland, executive director, MoveOn.org
"[An] important contribution to understanding the contemporary impasse of democratic politics."
— Jacobin
University of Chicago Press, 9780226508962, 352pp.
Publication Date: November 17, 2017
About the Author
Benjamin I. Page, Gordon Scott Fulcher Professor of Decision Making at Northwestern University, is the author of several books, including Class War? Martin Gilens is Professor of Public Policy at the UCLA Luskin School of Public Affairs. He is the author of Why Americans Hate Welfare and Affluence and Influence.
or
Not Currently Available for Direct Purchase