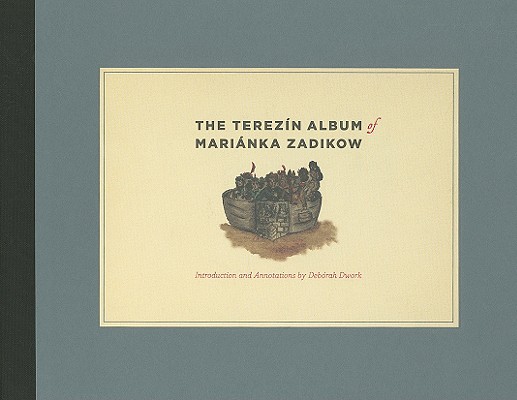 The Terezín Album of Mariánka Zadikow (Hardcover)
University of Chicago Press, 9780226511863, 280pp.
Publication Date: October 1, 2008
* Individual store prices may vary.
Description
"With simple means, without any 'title,' this book should in distant times always be in your memory."
 
An imprisoned bookbinder wrote these words in a small blank book that he had secretly crafted from pilfered materials at the Terezín (Theresienstadt) concentration camp in September 1944. He presented the album to a fellow prisoner, twenty-one-year-old Marianka Zadików. Over the next several months, as the Nazis pressed forward with mass deportations from Terezín to Auschwitz, Marianka began to collect inscriptions and sketches from her fellow inmates.

Marianka Zadików'salbum, presented here in a facsimile edition, is a poignant document from the last months of the Holocaust. The words and images inscribed here—by children and grandparents, factory workers and farmhands, professionals and intellectuals, musicians and artists—reflect both joy and trepidation. They include passages of remembered verse, lovingly executed drawings, and hurried farewells on the eve of transport to Auschwitz. The great German-Jewish scholar Rabbi Leo Baeck, one of the elders of the camp, offers Marianka an inscription about Jewish self-discovery, and participants in Terezín's now-famous musical performances fill several pages with musical annotation.

Facing-page translations render the book's multitude of languages into English, while historical and biographical notes give details, where known, of the fates of those whose words are recorded here. An introduction by acclaimed Holocaust scholar Debórah Dwork tells the story of the Terezín camp and how Marianka and her family fared while imprisoned there.

The array of voices and the glimpses into individual lives afforded us by The Terezín Album make it an arresting reminder of the sustaining power of care, community, and hope amid darkness.
About the Author
Mariánka Zadikow May was born in Germany but fled to her mother's native Czechoslovakia when she was a girl. She and her family were deported to Terezín in 1942. After the war, she relocated to the United States, and she now lives in upstate New York. Debórah Dwork is the Rose Professor of Holocaust History and the Director of the Strassler Family Center for Holocaust and Genocide Studies at Clark University. She is the author or coauthor of many books, including Children With A  Star: Jewish Youth in Nazi Europe, Holocaust: A History, and Auschwitz: 1270 to the Present.
Praise For The Terezín Album of Mariánka Zadikow…
"As much a work of art as a historical record, the Poesiealbum (autograph album) of Prague-born Jew Marianka Zadikow documents the lives of those held from 1944-1945 at transit camp Theresienstadt, a 150-year-old fortress at Terezin, Czechoslovakia. With a generously-donated stack of paper bound by a friend, the industrious 21-year-old Marianka?vividly captured in Dwork's biographical introduction?collected thoughts, wisdom, artwork, notes and other contributions from fellow prisoners and survivors, providing a map to the population's tight-knit community and inextinguishable sense of culture (evidenced in clandestine stage performances that 'saved [Zadikow's] life'). Reproduced page by page in full-color plates, Dwork's treatment provides facing-page transcripts in original language and translation and, when possible, an explanatory footnote. Many footnotes are obituaries, like performing baritone Walter Windholz, 'deported to Auschwitz . . . just a few weeks after he had signed Marianka's album.' Some contributors she meets after the war (the Nazis fled Terezin in April 1945), back in Prague or elsewhere, though survivors' stories (including Marianka's own) are not necessarily happy; Eugen Deitelbaum's haunting entry (a 'Japanese Poem') notes that he survived five concentration camps only to die in a drowning accident. Dwork knows not to overshadow the human evidence; Emo Groag's cartoon entry is tagged with a bittersweet story made more powerful for Dwork's brevity and matter-of-fact understatement. The end result is a stirring, illuminating example of Zadikow's cherished belief that art has the power to transcend, regenerate and reunite."—Publishers Weekly, starred review
— Publishers Weekly
 "Anyone interested in World War II history or the power of music to unite and give hope to people with nothing left will thoroughly enjoy this beautiful book."
— Bloomsbury Review
"[The book] serves as a unique Holocaust memoir. It can be read as an anthology of literary and artistic works, as a social history of life in Terezin, or as the unique memoir it is. . . . This is an unforgettable book that is sure to become a classic of Holocaust literature."
— Simone Bonim
or
Not Currently Available for Direct Purchase