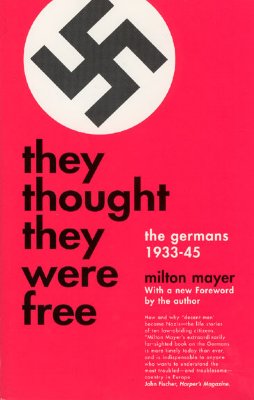 They Thought They Were Free
The Germans, 1933-45 (Phoenix Books)
Paperback

* Individual store prices may vary.
Description
First published in 1955, They Thought They Were Free is an eloquent and provocative examination of the development of fascism in Germany. Mayer's book is a study of ten Germans and their lives from 1933-45, based on interviews he conducted after the war when he lived in Germany. Mayer had a position as a research professor at the University of Frankfurt and lived in a nearby small Hessian town which he disguised with the name "Kronenberg." "These ten men were not men of distinction," Mayer noted, but they had been members of the Nazi Party; Mayer wanted to discover what had made them Nazis. "What happened here was the gradual habituation of the people, little by little, to being governed by surprise; to receiving decisions deliberated in secret; to believing that the situation was so complicated that the government had to act on information which the people could not understand, or so dangerous that, even if the people could not understand it, it could not be released because of national security. And their sense of identification with Hitler, their trust in him, made it easier to widen this gap and reassured those who would otherwise have worried about it."--from Chapter 13, "But Then It Was Too Late.
University of Chicago Press, 9780226511924, 368pp.
Publication Date: May 19, 1966
or
Not Currently Available for Direct Purchase