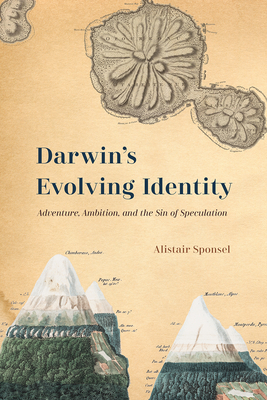 Darwin's Evolving Identity (Hardcover)
Adventure, Ambition, and the Sin of Speculation
University of Chicago Press, 9780226523118, 336pp.
Publication Date: March 21, 2018
* Individual store prices may vary.
Description
Why—against his mentor's exhortations to publish—did Charles Darwin take twenty years to reveal his theory of evolution by natural selection? In Darwin's Evolving Identity, Alistair Sponsel argues that Darwin adopted this cautious approach to atone for his provocative theorizing as a young author spurred by that mentor, the geologist Charles Lyell.  While we might expect him to have been tormented by guilt about his private study of evolution, Darwin was most distressed by harsh reactions to his published work on coral reefs, volcanoes, and earthquakes, judging himself guilty of an authorial "sin of speculation." It was the battle to defend himself against charges of overzealous theorizing as a geologist, rather than the prospect of broader public outcry over evolution, which made Darwin such a cautious author of Origin of Species. 


Drawing on his own ambitious research in Darwin's manuscripts and at the Beagle's remotest ports of call, Sponsel takes us from the ocean to the Origin and beyond. He provides a vivid new picture of Darwin's career as a voyaging naturalist and metropolitan author, and in doing so makes a bold argument about how we should understand the history of scientific theories.
About the Author
Alistair Sponsel is assistant professor of history at Vanderbilt University.
 
Praise For Darwin's Evolving Identity: Adventure, Ambition, and the Sin of Speculation…
"Sponsel takes a different slant on Darwin's scientific writing and life. Darwin's Evolving Identity deals with the publication of The Origin of Species, and how Darwin's decision to publish was affected by his contemporaries and colleagues. More could have been written here about Alfred Russel Wallace, another naturalist whose own findings on natural selection played a major role in pushing Darwin to finish writing Origin. Darwin was caught up in the work on coral reefs, which took time and energy away from his species efforts, which spanned decades. Darwin's coral reef studies helped establish him as a scientist and writer, earning him a place in the scientific hierarchy; but Darwin was wary of publishing Origin too soon, before thoroughly fleshing out his ideas. It was not until others seemed poised to beat him to the punch that Darwin was pushed to write and publish his findings. By the time Origin was published in 1859, it was largely accepted by colleagues; some (though not all) credited Darwin in their own work. This volume provides a detailed introduction to the scientific community in Darwin's time. Recommended."
"This lively, revisionist study transforms what we know about Charles Darwin's early years as a practicing scientist. We see Darwin as a bold young geologist, stunning the geological community with his innovative theory of coral reef formation, and as a new author eager to manage his growing reputation by strategizing with his friend and mentor Charles Lyell. Sponsel puts geology back into the story of species. More than this, this insightful book explores the deep, and often challenging, relationships between knowledge, theory, and publication in the world of nineteenth century science."
— Janet Browne, Harvard University
"How difficult it is to recapture the young Charles Darwin, first navigating the shoals of scientific theorizing and authorship, long before he became the Darwin of legend. Yet in this engaging and original study, Alistair Sponsel accomplishes just that, delivering fresh insights into Darwin's own evolution. Absolutely fascinating."
— David Kaiser, Massachusetts Institute of Technology
"Darwin's Evolving Identity is an excellent—indeed outstanding—work of scholarship, which makes major interventions in the literature on Darwin and his theory, as well as setting these interventions in a broader context that will draw interest well beyond the specific world of Darwin studies."
— Jim Secord, University of Cambridge