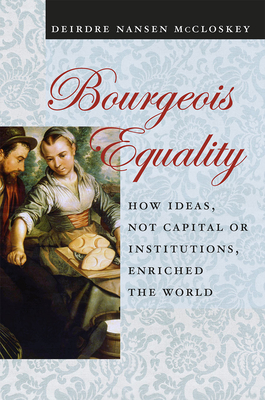 Bourgeois Equality
How Ideas, Not Capital or Institutions, Enriched the World
Paperback

* Individual store prices may vary.
Other Editions of This Title:
Digital Audiobook (6/30/2017)
Hardcover (4/21/2016)
Description
 There's little doubt that most humans today are better off than their forebears. Stunningly so, the economist and historian Deirdre McCloskey argues in the concluding volume of her trilogy celebrating the oft-derided virtues of the bourgeoisie. The poorest of humanity, McCloskey shows, will soon be joining the comparative riches of Japan and Sweden and Botswana.
 
Why? Most economists—from Adam Smith and Karl Marx to Thomas Piketty—say the Great Enrichment since 1800 came from accumulated capital. McCloskey disagrees, fiercely. "Our riches," she argues, "were made not by piling brick on brick, bank balance on bank balance, but by piling idea on idea." Capital was necessary, but so was the presence of oxygen. It was ideas, not matter, that drove "trade-tested betterment."  Nor were institutions the drivers. The World Bank orthodoxy of "add institutions and stir" doesn't work, and didn't. McCloskey builds a powerful case for the initiating role of ideas—ideas for electric motors and free elections, of course, but more deeply the bizarre and liberal ideas of equal liberty and dignity for ordinary folk. Liberalism arose from theological and political revolutions in northwest Europe, yielding a unique respect for betterment and its practitioners, and upending ancient hierarchies. Commoners were encouraged to have a go, and the bourgeoisie took up the Bourgeois Deal, and we were all enriched.
 
Few economists or historians write like McCloskey—her ability to invest the facts of economic history with the urgency of a novel, or of a leading case at law, is unmatched. She summarizes modern economics and modern economic history with verve and lucidity, yet sees through to the really big scientific conclusion. Not matter, but ideas. Big books don't come any more ambitious, or captivating, than Bourgeois Equality.
Praise For Bourgeois Equality: How Ideas, Not Capital or Institutions, Enriched the World…
"It took me two months to read this 650-page, small-type book, the third volume in a trilogy. In that time I read several other books, absorbing Bourgeois Equality in small doses on trains, ships, Tubes, sofas and beds. If that sounds like faint praise, it's not. I wanted to savour every sentence of this remarkable feast of prose. It is a giant of a book about a giant of a topic: the 'great enrichment' of humanity over the past 300 years. It is so rich in vocabulary, allusion and fact as to be a contender for the great book of the great book of our age. Dump your copy of Thomas Piketty and put Deirdre McCloskey on the bookshelf instead."
— Matt Ridley

"It has always seemed to me that history is overdetermined, so any attempt to pick out a single cause will be doomed, and yet McCloskey's insistence on the essential role of what she variously calls ideas, ideology, ethics or rhetoric—the social acceptability of bourgeois folk engaging honourably in business—is persuasive. . . . Bourgeois Equality is richly detailed and erudite, and it will join its companion volumes as essential reading on the industrial revolution, as well as a model of the intellectual depth and breadth achievable through the study of economics."
— Diane Coyle

"A sparkling book. . . . McCloskey makes a convincing case."
— Martin Wolf

"McCloskey has spent a long and distinguished career asserting the efficacy of free markets in goods and labour. . . . Unusually versed in philosophy and literature, she has acted as something of a domestic chaplain for the Chicago school of economists, ministering to the spiritual state of Homo economicus. . . . McCloskey is at her best in arguing that economics and ethics are mutually important but largely autonomous spheres of human endeavour."
— Jeffrey Collins
University of Chicago Press, 9780226527932, 768pp.
Publication Date: October 13, 2017
About the Author
Deirdre Nansen McCloskey is distinguished professor emerita of economics and of history, and professor emerita of English and of communication, at the University of Illinois at Chicago.