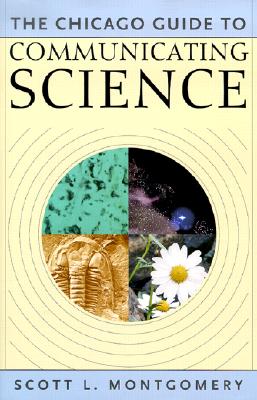 The Chicago Guide to Communicating Science (Hardcover)
University of Chicago Press, 9780226534848, 228pp.
Publication Date: February 15, 2003
* Individual store prices may vary.
Description
Whether you are a graduate student or a senior scientist, your reputation rests on the ability to communicate your ideas and data. In this straightforward and accessible guide, Scott L. Montgomery offers detailed, practical advice on crafting every sort of scientific communication, from research papers and conference talks to review articles, interviews with the media, e-mail messages, and more. Montgomery avoids the common pitfalls of other guides by focusing not on rules and warnings but instead on how skilled writers and speakers actually learn their trade-by imitating and adapting good models of expression. Moving step-by-step through samples from a wide variety of scientific disciplines, he shows precisely how to choose and employ such models, where and how to revise different texts, how to use visuals to enhance your presentation of ideas, why writing is really a form of experimentation, and more.

He also traces the evolution of scientific expression over time, providing a context crucial for understanding the nature of technical communication today. Other chapters take up the topics of writing creatively in science; how to design and use graphics; and how to talk to the public about science. Written with humor and eloquence, this book provides a unique and realistic guide for anyone in the sciences wishing to improve his or her communication skills.

Practical and concise, The Chicago Guide to Communicating Science covers:

*Writing scientific papers, abstracts, grant proposals, technical reports, and articles for the general public
*Using graphics effectively
*Surviving and profiting from the review process
*Preparing oral presentations
*Dealing with the press and the public
*Publishing and the Internet
*Writing in English as a foreign language
About the Author
Scott L. Montgomery is a consulting geologist, writer, and independent scholar. He has authored hundreds of papers, articles, monographs, and reports in the geological sciences, as well as several textbooks and translations. He is also the author of several books on the history of science and scientific language, including Science in Translation: Movements of Knowledge through Cultures and Time.
Praise For The Chicago Guide to Communicating Science…
"Montgomery wants scientists to cast off the straightjacket of convention when they write for other scientists, or at least to ask a friend to loosen the ties. He covers a huge amount of ground, from papers and review articles to book reviews, technical reports, presentations and online publishing. He has some excellent practical advice for nervous publishing virgins with writer's block as well as encouragement for more experienced writers flirting coyly with metaphor and the occasional rhetorical flourish."

"Montgomery's Chicago Guide to Communicating Science has all the aut
-Chris Quigg

"I am pleased to recommend this straightforward, realistic, and accessible guide, which is written with elegance and humor, to anyone--from graduate student to senior scientist--concerned with improving the ffectiveness of communicating scientific ideas or data to colleagues or the general public."George B. Kauffman, Chemical Educator
-George B. Kauffman

"This guide is a superb one, well written, and a pleasure to read (how often can one say that about a guide to writing for scientists?)."
-Ann C. Jordan-Paker

"[Montgomery] has written a masterful, concise guide, densely packed with all the information needed by the young, upwardly mobile assistant professor. Even those who have already scaled the heights have an obligation to share their findings with their colleagues in the scientific community. This book will answer their questions, too. . . . Any scientist who prepares findings for presentation in any form will benefit from this book, as will anyone who intends ever to read a paper or a textbook."
-Alexander W. Gotta

"[The book] is full . . . of practical advice and realistic and helpful examples, presented with humor and sympathy for the struggling scientist-author. Any scientist looking to improve his or her writing or to gain insights into the different forms of scientific communication would profit from reading this book."
-Susan Duhon

"A no nonsense guide to writing papers, grant proposals, and articles for the layperson, using reviews effectively, preparing and presenting speeches, and dealing with the press. This guide should find a prominent spot on the shelf of scientists and students."
or
Not Currently Available for Direct Purchase