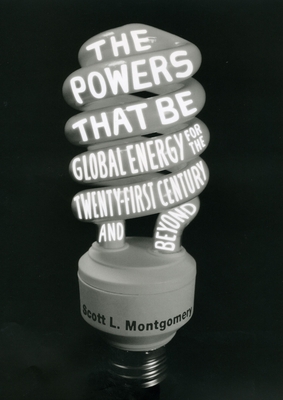 The Powers That Be
Global Energy for the Twenty-first Century and Beyond
Hardcover

* Individual store prices may vary.
Description
Thirty years ago, our global energy landscape did not look remarkably different from what it does today. Three or four decades from now, it certainly will: dwindling oil reserves will clash with skyrocketing demand, as developing nations around the world lead their citizens into the modern energy economy, and all the while, the grave threat of catastrophic climate change looms ever larger. Energy worries are at an all-time high—just how will we power our future?
With The Powers That Be, Scott L. Montgomery cuts through the hype, alarmism, and confusion to give us a straightforward, informed account of where we are now, and a map of where we're going. Starting with the inescapable fact of our current dependence on fossil fuels—which supply 80% of all our energy needs today—Montgomery clearly and carefully lays out the many alternative energy options available, ranging from the familiar, like water and solar, to such nascent but promising sources as hydrogen and geothermal power. What is crucial, Montgomery explains, is understanding that our future will depend not on some single, wondrous breakthrough; instead, we should focus on developing a more diverse, adaptable energy future, one that draws on a variety of sources—and is thus less vulnerable to disruption or failure.
An admirably evenhanded and always realistic guide, Montgomery enables readers to understand the implications of energy funding, research, and politics at a global scale. At the same time, he doesn't neglect the ultimate connection between those decisions and the average citizen flipping a light switch or sliding behind the wheel of a car, making The Powers That Be indispensible for our ever-more energy conscious age.
Praise For The Powers That Be: Global Energy for the Twenty-first Century and Beyond…
"This is a beautifully written and highly engaging book that tackles nothing less than the general global problem of energy. This question has been examined by many books and articles, both academic and more popular. What is extraordinary about this work is that it takes all of these issues and blends them smoothly into a cohesive, understandable single work. Any reader will put down The Powers That Be understanding how difficult the problems we face are, while also realizing that there is much hope that we will be able to substantially solve many of them. It is a timely voice of reason in our complicated, troubled world."
— Daniel Chirot, University of Washington
"Scott Montgomery has written a much-needed book about global energy for a general nonfiction audience. He approaches the issue with humanistic nuance and offers a refreshing voice of clarity and composure on this topic."
— Saleem H. Ali, author of Treasures of the Earth: Need, Greed, and a Sustainable Future
"Scott brings a much needed element of realism to the discussion of energy in a well-constructed, accessible fashion. In laying out the course from past to present, he gives the reader the ability to envision a reasonable path forward. Importantly, he recognizes the scale of the issues we face today, and, in doing so, provides insightful discussion of controversial issues such as energy independence, peak oil and the long and short run potential of renewable energy technologies."
— Kenneth B. Medlock III, Rice University
"This exhaustive yet accessible look at the global energy supply weighs the future of fossil fuels and carefully considers the alternatives."
— Discover
"Informative and unexpectedly entertaining."
— Australian
CHOICE Outstanding Academic Titles, 2011
— Choice
University of Chicago Press, 9780226535005, 408pp.
Publication Date: July 15, 2010
About the Author
Scott L. Montgomery is a consulting geologist and independent scholar, and the author of The Chicago Guide to Communicating Science and Science in Translation, both published by the University of Chicago Press.
or
Not Currently Available for Direct Purchase