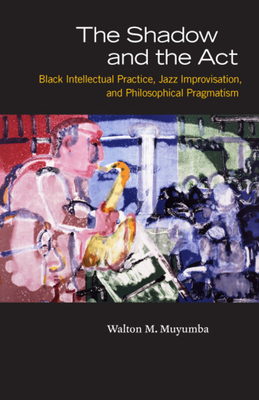 The Shadow and the Act
Black Intellectual Practice, Jazz Improvisation, and Philosophical Pragmatism
Hardcover

* Individual store prices may vary.
Other Editions of This Title:
Paperback (7/1/2009)
Description
Though often thought of as rivals, Ralph Ellison, James Baldwin, and Amiri Baraka shared a range of  interests, especially a passion for music. Jazz, in particular, was a decisive influence on their thinking, and, as The Shadow and the Act reveals, they drew on their insights into the creative process of improvisation to analyze race and politics in the civil rights era. In this inspired study, Walton M. Muyumba situates them as a jazz trio, demonstrating how Ellison, Baraka, and Baldwin's individual works form a series of calls and responses with each other.
Muyumba connects their writings on jazz to the philosophical tradition of pragmatism, particularly its support for more freedom for individuals and more democratic societies. He examines the way they responded to and elaborated on that lineage, showing how they significantly broadened it by addressing the African American experience, especially its aesthetics. Ultimately, Muyumba contends, the trio enacted pragmatist principles by effectively communicating the social and political benefits of African Americans fully entering society, thereby compelling America to move closer to its democratic ideals.
Praise For The Shadow and the Act: Black Intellectual Practice, Jazz Improvisation, and Philosophical Pragmatism…
"This is an extraordinary book. Muyumba's pathbreaking account of Ellison, Baraka, and Baldwin's aesthetic theories and the connection between those theories and African American politics is creative and convincing."
— Eddie S. Glaude Jr., Princeton University
"Muyumba's compelling book shows how Ellison, Baldwin, and Baraka drew upon 'the music' as they rethought the contours of blackness and recast the pragmatist pursuit of democracy in ways that were beholden to African American experiences and aesthetics. By doing so, he helps us to better understand the profound ways that jazz, as an intellectual as well as a creative practice, shaped African American letters and its gendered politics during the second half of the twentieth century."
— Eric Porter, University of California, Santa Cruz
"Playing on the intriguing connections between pragmatism, jazz, and the writings of Ralph Ellison, James Baldwin, and Amiri Baraka, Muyumba looks at these authors' differences in style, method, and message. By bringing these writers together—in their appreciation for jazz, democratic ideals, sociopolitical change—the author provides new insights into both the major and shorter works of his subjects."
— Choice
University of Chicago Press, 9780226554235, 232pp.
Publication Date: July 1, 2009
About the Author
Walton M. Muyumba is associate professor of English at the University of North Texas.
or
Not Currently Available for Direct Purchase