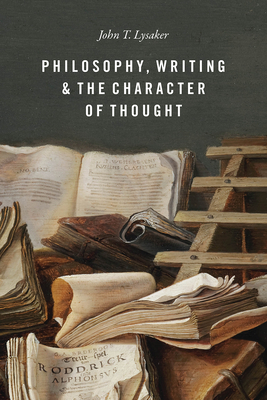 Philosophy, Writing, and the Character of Thought
Hardcover

* Individual store prices may vary.
Other Editions of This Title:
Paperback (8/22/2021)
Description
Lysaker examines the relationship between philosophical thought and the act of writing to explore how this dynamic shapes the field of philosophy.

Philosophy's relation to the act of writing is John T. Lysaker's main concern in Philosophy, Writing, and the Character of Thought. Whether in Plato, Montaigne, Nietzsche, Wittgenstein, or Derrida, philosophy has come in many forms, and those forms—the concrete shape philosophizing takes in writing—matter. Much more than mere adornment, the style in which a given philosopher writes is often of crucial importance to the point he or she is making, part and parcel of the philosophy itself.

Considering how writing influences philosophy, Lysaker explores genres like aphorism, dialogue, and essay, as well as logical-rhetorical operations like the example, irony, and quotation. At the same time, he shows us the effects of these rhetorical devices through his own literary experimentation. In dialogue with such authors as Benjamin, Cavell, Emerson, and Lukács, he aims to revitalize philosophical writing, arguing that philosophy cannot fulfill its intellectual and cultural promise if it keeps to professional articles and academic prose. Instead, philosophy must embrace writing as an essential, creative activity, and deliberately reform how it approaches its subject matter, readership, and the evolving social practices of reading and reflection.
Praise For Philosophy, Writing, and the Character of Thought…
"Lysaker is attempting something very difficult, maybe impossible, in philosophy: a revitalization of the discipline by returning to its most vibrant (but also most confusing) expressions — fragments, aphorisms, quotations, confessions, essays, ironies, rhetorical questions. His book is, unapologetically, a stylistic mash-up. A reader accustomed to, if not delighted by, straightforward argumentation will find it to be a maddening journey of switchbacks and dead ends. Yet someone bored by contemporary philosophy's hidebound method of analysis will find it a joyful intellectual jaunt."
— Los Angeles Review of Books

"Lysaker provides a tour de force self-examination and analysis of philosophical writing and philosophical purpose. He addresses multiple facets of the nature of philosophical writing: what is written, how it is written, why it is written, by and to whom it is written. Lysaker engages with these concerns thoughtfully and honestly, so the book is far more than a survey. . . . Summing Up: Essential."
— CHOICE

"Philosophy, Writing, and the Character of Thought is a bold and courageous book. John Lysaker, at the level of form and in the substance of his powerful writing, shows us what philosophy can be and what it can do."
— Eddie Glaude, Princeton University

"This is one of the best books I have read in a while. Powerful and original, it is about writing and not knowing how to write. It is about displacement, and being uprooted, and disorientation. About stuttering, about not knowing one's way in an argument or how to say it, so that it is to the height of what it is being expressed. It is about how philosophy is homeless, and how just as it has no mother tongue, it also has no distinct or owned, sovereign, genre. This is a book about how to philosophize that requires that we create new ways, forms, genres, "styles," gestures, of writing and communicating. But, the book is more than that; it is also a reflection on how thought is impacted by its mode of delivery. The thought is its own expression, or mode of presentation."
— Eduardo Mendieta, Pennsylvania State University

"This book is a profound meditation on what it means to write philosophy in all the remarkable diversity of ways in which this has happened. Examples abound from a rich tapestry composed of figures from Plato through Emerson and Thoreau, into Heidegger, Cavell, Nietzsche, and Wittgenstein. Lysaker's own text defies all standard genres—it is itself sui generis—as it creates its own original unique mixture of reflection and critique. Showing how philosophy must move beyond traditional aims of demonstration and validity, it concerns itself not just with the relationship between the philosophical text and the reader but also, and especially, with the times in which it exists: it must be 'equal to the moment.' Lysaker shows that philosophy at its best is an experimentation and a provocation; and his own text, at once learned and wry, humorous and dead serious, eloquent and forceful, is both of these at once."
— Edward S. Casey, State University of New York at Stony Brook

"[Lysaker's] writing is scholarly, to be sure, but never merely so; he takes philosophy as we all should—personally. His prose is full of personality, wit, self-awareness, even self-doubt, and always good will."
— Scott F. Parker
University of Chicago Press, 9780226569567, 224pp.
Publication Date: November 27, 2018
About the Author
John T. Lysaker is the William R. Kenan Professor of Philosophy at Emory University. He is the author of many books, including After Emerson and You Must Change Your Life: Poetry, Philosophy, and the Birth of Sense.