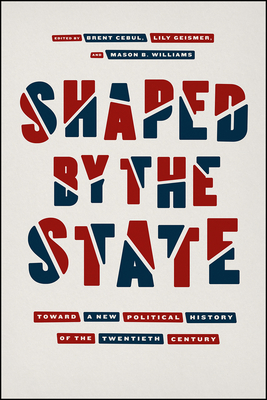 Shaped by the State (Hardcover)
Toward a New Political History of the Twentieth Century
University of Chicago Press, 9780226596297, 384pp.
Publication Date: February 21, 2019
Other Editions of This Title:
Paperback (2/21/2019)
* Individual store prices may vary.
Description
American political history has been built around narratives of crisis, in which what "counts" are the moments when seemingly stable political orders collapse and new ones rise from the ashes. But while crisis-centered frameworks can make sense of certain dimensions of political culture, partisan change, and governance, they also often steal attention from the production of categories like race, gender, and citizenship status that transcend the usual break points in American history.

Brent Cebul, Lily Geismer, and Mason B. Williams have brought together first-rate scholars from a wide range of subfields who are making structures of state power—not moments of crisis or partisan realignment—integral to their analyses. All of the contributors see political history as defined less by elite subjects than by tensions between state and economy, state and society, and state and subject—tensions that reveal continuities as much as disjunctures. This broader definition incorporates investigations of the crosscurrents of power, race, and identity; the recent turns toward the history of capitalism and transnational history; and an evolving understanding of American political development that cuts across eras of seeming liberal, conservative, or neoliberal ascendance. The result is a rich revelation of what political history is today.
About the Author
Brent Cebul is assistant professor of history at the University of North Carolina at Charlotte. Lily Geismer is associate professor of history at Claremont McKenna College and the author of Don't Blame Us. Mason B. Williams is assistant professor of leadership studies and political science at Williams College and the author of City of Ambition.
Praise For Shaped by the State: Toward a New Political History of the Twentieth Century…
"This is an original and unique anthology whose contributions offer theoretically sophisticated reassessments of the subfield of political history. Both capacious and generative, I know of no other work that comes close in offering so many fresh interpretations of twentieth-century US history and revisions of twentieth-century US historiography. The essays are well written and engaging, new and enlightening."
— Peter James Hudson, University of California, Los Angeles
"Shaped by the State brings together a valuable collection of reports from the borderlands where social, cultural, and political history intersect—and reinvigorate—each other."
— Daniel Rodgers, Princeton University
or
Not Currently Available for Direct Purchase