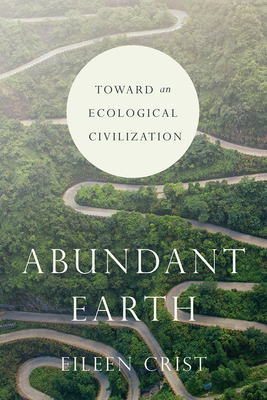 Abundant Earth
Toward an Ecological Civilization
Paperback

* Individual store prices may vary.
Other Editions of This Title:
Hardcover (2/8/2019)
Description
In Abundant Earth, Eileen Crist not only documents the rising tide of biodiversity loss, but also lays out the drivers of this wholesale destruction and how we can push past them. Looking beyond the familiar litany of causes—a large and growing human population, rising livestock numbers, expanding economies and international trade, and spreading infrastructures and incursions upon wildlands—she asks the key question: if we know human expansionism is to blame for this ecological crisis, why are we not taking the needed steps to halt our expansionism?

Crist argues that to do so would require a two-pronged approach. Scaling down calls upon us to lower the global human population while working within a human-rights framework, to deindustrialize food production, and to localize economies and contract global trade. Pulling back calls upon us to free, restore, reconnect, and rewild vast terrestrial and marine ecosystems. However, the pervasive worldview of human supremacy—the conviction that humans are superior to all other life-forms and entitled to use these life-forms and their habitats—normalizes and promotes humanity's ongoing expansion, undermining our ability to enact these linked strategies and preempt the mounting suffering and dislocation of both humans and nonhumans.

Abundant Earth urges us to confront the reality that humanity will not advance by entrenching its domination over the biosphere. On the contrary, we will stagnate in the identity of nature-colonizer and decline into conflict as we vie for natural resources. Instead, we must chart another course, choosing to live in fellowship within the vibrant ecologies of our wild and domestic cohorts, and enfolding human inhabitation within the rich expanse of a biodiverse, living planet.
Praise For Abundant Earth: Toward an Ecological Civilization…
"Abundant Earth is a profoundly needed book in this moment in time. . . . The book is grounded in real science, but Crist ushers the reader along using easy to understand examples, resulting in a text that can be readily understood by readers of all backgrounds. She offers an ultimately uplifting and optimistic perspective on a serious and gloomy topic. . . . Recommended." 
— Choice

"Exhilarating. . . . The exhilaration comes from discovering a scholar, teacher, and writer who has pulled together ideas that I have been thinking about for nearly half a century, since I was drawn into environmental studies and discourses by the likes of Rachel Carson and Paul Ehrlich, among others. . . . She has brilliantly brought together ideas I've long thought critically important, and this is cause for elation. . . . Despair is not an option. . . . Crist . . . is a fearless scholar, offering ideas that are far outside mainstream thought even of environmentalists. . . . She does not shrink from the magnitude of the challenges she describes in this book. She does not expect civilization to be reinvented overnight, but she also does not think that we humans have a lot of time to dally in addressing the challenges. We are making the Earth less abundant by the day, and ecological crises abound. Abundant Earth is a must read for all concerned about wilderness, wildlife, rewilding, and the ecological future. Crist has combed a vast literature and presented the case for civilizational change most effectively. . . . An essential macro-analysis of what must be done and why."
— John Miles

"A prescient text, strong medicine for these days in which we find ourselves. Crist has gathered bitter berries and fertile fruit from her life as a scholar and as an articulate voice for wild nature, offering this text as an antidote to these times of rapidly changing environmental circumstances marked by climate disruption, expanding human numbers, and a disquieting loss of species. . . . It is into this milieu that Abundant Earth arrives with its fearless call for nothing less than a total reformation of human civilization on the planet."
— Tim Hogan

"Abundant Earth is a gem of a book. Eileen Crist clearly shows how essential it is for humans to appreciate that we're just one species among many, to recognize that it's high time that we deeply appreciate and embrace Earth's biodiversity, and to understand that we're not superior or 'better' than other animals. When we come to realize that coexistence has to be the name of the game as we move forward in an increasingly human dominated world—we are the most dominating species—and that each and every individual can make positive differences in the ongoing health of our magnificent planet, there is hope that the future won't be as bleak as many claim it will be. Future generations surely will inherit a different planet. However, different doesn't necessarily mean a worse place to live if we reconnect with nature, rewild ourselves, and come to understand that we're just one of a gang of many diverse beings, all of whom matter."
— Marc Bekoff, author of "Rewilding Our Hearts: Building Pathways of Compassion and Coexistence" and "Canine Confidential: Why Dogs Do What They Do"

"No one has dealt with the issue of human supremacy and 'the fate of the earth' in the systematic and extensive manner that Crist does in this book. Her work is meticulous, systematic, thorough—and it is deeply provocative."
— Lisi Krall, author of "Proving Up: Domesticating Land in US History"

"I doubt that a more important book than Crist's Abundant Earth has appeared so far this century. There is now no more urgent project than the one she urges: developing a global ecological civilization. Passionate, intelligent, and courageous, Crist's book belongs together with the work of Aldo Leopold and Rachel Carson, and insofar as she addresses challenges that they probably didn't imagine in their darkest dreams, it takes that work forward. Abundant Earth details our self-created predicament and its murderous effects on all life before laying out a different way we can take, a vision with intensely practical implications. It deserves the widest possible readership."
— Patrick Curry, author of "Ecological Ethics" and editor of the journal "The Ecological Citizen"

"Though not fuming with the misanthropic rage of Money's The Selfish Ape, Crist's book is nonetheless a pointed and furious cross-examination of anthropocentrism."
— The Inquisitive Biologist

"...chronicles the rising tide of biodiversity loss and eloquently lays out the drivers of this wholesale destruction.  Looking beyond the familiar litany of causes—a large and growing human population, rising livestock numbers, expanding economies and international trade, and spreading infrastructures and incursions upon wildlands—[Crist] asks the key question: if we know human expansionism is to blame for this ecological crisis, why are we not taking the needed steps to halt it?  [Crist] doesn't just ask questions in this book; she offers pragmatic solutions."
— Stacey Hunt

"In a time when nature's future is obscured by climate change and mass extinction of species, regenerative ecology and rewilding offer a hopeful new history. But is it man or nature that is the protagonist? . . . As the title of Crist's book suggests, life must be bountiful if the biosphere is to survive in the long run. Rather than trying to 'save civilization,' which is obviously the source of the problem, Crist emphasizes that we must dismantle and transform the global industrial culture we live in to save the earth. . . . Where we live in a world where islands of wilderness are surrounded by civilization, we must,  according to Crist, strive for the opposite, a civilization that is islands in a sea of ??nature."
— Anders Dunker

"Crist has given us an extraordinarily thoughtful book, addressing many pressing issues. In the course of that she fashions an impressive synthesis of much of the relevant literature. . . . As conservation is increasingly compelled to deal with causes of biodiversity decline rather than just symptoms, this book contributes much."
— David Johns, Portland State University

"Abundant Earth is a prophetic, yet delightful read, which I highly recommend to anyone interested in thinking through our current ecological crisis. [...] Crist does not pull punches. Abundant Earth is bound to stir discussion. Overall, Abundant Earth presents a series of small, reasonably accessible goals to practically implement the worldview of abundance, but not without controversy."
— J. Spencer Atkins, University of Tennessee at Knoxville

"All who care about the future of the Earth and have an interest in doing something about it should read this most original book. In it, Eileen Crist challenges us to reinvent our civilization so that we truly function as part of the living world. If we fail to do so, our continued plundering of the living systems of the Earth can lead only to their disastrous collapse."
— Peter H. Raven
University of Chicago Press, 9780226596808, 288pp.
Publication Date: January 17, 2019
About the Author
Eileen Crist is associate professor in the Department of Science, Technology, and Society at Virginia Tech. She is the author of Images of Animals: Anthropomorphism and Animal Mind  and coeditor of a number of books, including Gaia in Turmoil: Climate Change, Biodepletion, andEarth Ethics in an Age of Crisis; Life on the Brink: Environmentalists Confront Overpopulation; Keeping the Wild: Against the Domestication of Earth; and Protecting the Wild: Parks and Wilderness, the Foundation for Conservation.