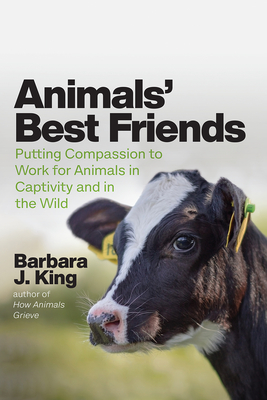 Animals' Best Friends
Putting Compassion to Work for Animals in Captivity and in the Wild
Hardcover

* Individual store prices may vary.
Description
As people come to understand more about animals' inner lives—the intricacies of their thoughts and the emotions that are expressed every day by whales and cows, octopus and mice, even bees—we feel a growing compassion, a desire to better their lives. But how do we translate this compassion into helping other creatures, both those that are and are not our pets? Bringing together the latest science with heartfelt storytelling, Animals' Best Friends reveals the opportunities we have in everyday life to help animals in our homes, in the wild, in zoos, and in science labs, as well as those considered to be food.

Barbara J. King, an expert on animal cognition and emotion, guides us on a journey both animal and deeply human. We meet cows living relaxed lives in an animal sanctuary—and cows with plastic portals in their sides at a university research station. We observe bison free-roaming at Yellowstone National Park and chimpanzees confined to zoos. We learn with King how to negotiate vegetarian preferences in omnivore restaurants. We experience the touch of a giant Pacific octopus tasting King's skin with one of his long, neuron-rich arms. We reflect on animal testing as King shares her own experience as the survivor of a particularly nasty cancer. And in a moment all too familiar to many of us, we recover from a close encounter with two spiders in the home.

This is a book not of shaming and limitation, but of uplift and expansion. Throughout this journey, King makes no claims of personal perfection. Though an animal expert, she is just like the rest of us: on a journey still, learning each day how to be better, and do better, for animals. But as Animals' Best Friends makes clear, challenging choices can bring deep rewards. By turning compassion into action on behalf of animals, we not only improve animals' lives—we also immeasurably enrich our own.
Praise For Animals' Best Friends: Putting Compassion to Work for Animals in Captivity and in the Wild…
"A stunning and deeply beautiful accomplishment. Required reading for anyone who wants to better understand the complexities and contradictions of our interactions with animals. And for anyone who wants to have a deeper and more useful relationship with the natural world. I learned a lot reading it. An instant classic."
— Jeff VanderMeer, author of the New York Times–bestselling Southern Reach Trilogy
"Even as we struggle to be compassionate, it's difficult to live in the world without hurting animals. What's an animal lover to do? This question is at the heart of this important book by King, whose writing, thinking, and teaching about the minds and feelings of animals, and our responsibilities to them, is justly celebrated. Happily, there are many ways to help, from the kitchen to the ballot box. And helping animals is not all-or-nothing. Crucially, King points out ways we can help with great compassion not only for the animals, but also for the people making sometimes difficult choices. Animals' Best Friends will be a guiding light not only to philosophers and ethicists, but also to caring people everywhere who hope to bring the power of human empathy to the choices we make that affect animals' lives."
— Sy Montgomery, author of "The Soul of an Octopus: A Surprising Exploration into the Wonder of Consciousness"
"Our relation with animals is fraught with conflicting emotions. We like to eat some, seek to eradicate others, yet adore and spoil our pets like family members. King describes her own moral dilemmas and the personal solutions she has found, always with love and respect shining through. This book will help its readers articulate their own attitudes."
— Frans de Waal, author of "Mama's Last Hug: Animal Emotions and What They Tell Us about Ourselves"
"If I were asked for one word that measures human progress through the ages, the present, and into the future, that word would be: 'Compassion.' King is a writer of deep thought and wide knowledge, and she brings it all together here for what is perhaps her most forcefully reasoned, compellingly presented, and important work; not just for animals—though that alone would be a great achievement—but for letting all of us consider what it means to be human beings now, and whether becoming humane beings would be the greatest advance in human history."
— Carl Safina, author of "Beyond Words: What Animals Think and Feel" and "Becoming Wild: How Animal Cultures Raise Families, Create Beauty, and Achieve Peace"
"Animals' Best Friends is a wonderful book: beautifully written, deeply moving, and fascinating throughout. The stories and research that King tells about the wonders of animal life enable the reader to share in her own enduring sense of hope: Not just for animals in captivity and in the wild, but through and with them, for our own species as well."
— Stuart Shanker, author "Reframed: Self-Reg for a Just Society" and "Self-Reg: How to Help Your Child (and You) Break the Stress Cycle and Successfully Engage with Life"
"Unlike so many other books pleading animal protection or demanding the forfeiture of fundamental aspects of the human experience, Animals' Best Friends calmly, perceptively, and effectively offers us much to think with, and a few key areas to act on. With unreserved compassion, King walks us through examples of how we do, can, and might otherwise engage with the myriad of amazing creatures that are entangled in the human way of being. The end product is one of possibilities and hope. King is simply asking us to consider how we can and should be better friends to all the other species we share the world with. . . . In an engaging narrative that is simultaneously enlightening, horrifying, and compassionate, King asks us truthfully to see how we treat other species and to at least consider doing better. . . . King invites us to consider friendship a little more deeply. Along the way we meet many other animals, sharing their pain and suffering, their joy and enthusiasm, and end at a place where we desire to make a difference."
— Agustín Fuentes, author of "Why We Believe: Evolution and the Human Way of Being" and "The Creative Spark: How Imagination Made Humans Exceptional"
"With a contagious and visceral sense of wonder and inviting prose, King writes of how we can turn compassion into action for animals who share our air, water, and land. King compels us to consider how our everyday choices matter to the seen and unseen animals who are vulnerable to our exploits and inertia. Continually mindful of animals' lived experiences, King reveals how we can be the friends that animals need to thrive as individuals and in their families and communities.
— Hope Ferdowsian, MD, MPH, author of "Phoenix Zones: Where Strength Is Born and Resilience Lives," president and CEO, Phoenix Zones Initiative
"King's writing is honest and candid. I love being swept up in her thoughtful stories and seeing animals and culture through her points of view. She continues to produce essential and enthralling books about our relationship with animals. I highly recommend all of her books."
— Jo-Anne McArthur, author and photographer of "We Animals" and "Captive," coeditor of "Hidden: Animals in the Anthropocene"
"An expert on animal cognition and emotion reveals the reasons and opportunities we have in everyday life to help animals in our homes, zoos, science labs and farms."
— Bookseller
"Sharing her personal experiences and her extensive research, King shows how people can treat animals with sensitivity, from not killing spiders in the home to avoiding eating Chinook salmon, a preferred food of orca whales. She explores the ethics of keeping wild animals in captivity for human enjoyment as well as killing them for population control, offering alternatives. Notably, she relates how animals are treated in the food supply chain and the lack of transparency on how animals are used in research labs. Throughout, King points out small actions that can help, such as reducing meat consumption, and acknowledges her own shortcomings in her quest for compassionate action. . . . This interesting work is often troubling to read, yet it's important in showing how people can compassionately care for the animals that share out planet. It will especially appeal to animal rights activists and readers who enjoyed Carl Safina's Beyond Words: What Animals Think and Feel."
— Library Journal
University of Chicago Press, 9780226601489, 280pp.
Publication Date: March 23, 2021
About the Author
After twenty-eight years of teaching anthropology at the College of William and Mary,
Barbara J. King
retired early to become a science writer and public speaker. King's work has been featured at
Scientific American
,
Aeon
,
Undark
,
SAPIENS
, NPR, the BBC,
Times Literary Supplement
, the World Science Festival, and the annual TED conference in Vancouver. Her TED talk on animal love and grief is available online at
https://www.ted.com/speakers/barbara_j_king
. She lives in Wicomico, VA.