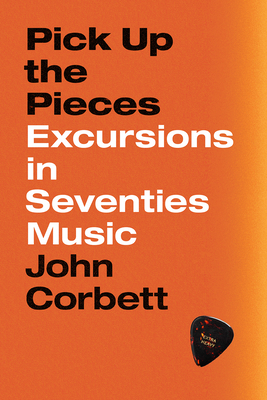 Pick Up the Pieces
Excursions in Seventies Music
Hardcover

* Individual store prices may vary.
Description
Unless you lived through the 1970s, it seems impossible to understand it at all. Drug delirium, groovy fashion, religious cults, mega corporations, glitzy glam, hard rock, global unrest—from our 2018 perspective, the seventies are often remembered as a bizarre blur of bohemianism and disco. With Pick Up the Pieces, John Corbett transports us back in time to this thrillingly tumultuous era through a playful exploration of its music. Song by song, album by album, he draws our imaginations back into one of the wildest decades in history.
 
Rock. Disco. Pop. Soul. Jazz. Folk. Funk. The music scene of the 1970s was as varied as it was exhilarating, but the decade's diversity of sound has never been captured in one book before now. Pick Up the Pieces gives a panoramic view of the era's music and culture through seventy-eight essays that allow readers to dip in and out of the decade at random or immerse themselves completely in Corbett's chronological journey.
 
An inviting mix of skilled music criticism and cultural observation, Pick Up the Pieces is also a coming-of-age story, tracking the author's absorption in music as he grows from age seven to seventeen. Along with entertaining personal observations and stories, Corbett includes little-known insights into musicians from Pink Floyd, Joni Mitchell, James Brown, and Fleetwood Mac to the Residents, Devo, Gal Costa, and Julius Hemphill.
 
A master DJ on the page, Corbett takes us through the curated playlist that is Pick Up the Pieces with captivating melody of language and powerful enthusiasm for the era. This funny, energetic book will have readers longing nostalgically for a decade long past.
Praise For Pick Up the Pieces: Excursions in Seventies Music…
"[A] thoroughly enjoyable—and gorgeously written—joy ride down his version of 1970s memory lane. . . . music lovers are sure to enjoy Corbett's delightful book about a fascinating, often misunderstood time of musical innovation."
— Booklist

"Just as a rich gumbo benefits from the perfect combination of diverse ingredients, so does Corbett's analysis and so do the 1970s songs and performances he examines. . . . Corbett is in the upper echelon of music criticism."
— Library Journal

"Corbett is the Carl Sagan of vinyl. Funny and irreverent, he's voyaged across the stars and the human imagination to bring us music both 'pathetic and sublime' from that most misunderstood of decades, the 1970s."
— Rainn Wilson

"Pick Up the Pieces challenges us to attempt an understanding of an era's crazy contradictions and to do so through putting on an album, preferably with friends, and letting its sounds tangle around us as we live. If only we could all describe our experiences—with music and with everything else—as perceptively as Corbett does."
— Spectrum Culture

"Rich in insight into the music industry. . . . Corbett reminds us that the music of the '70s is not a collection of half-forgotten songs left drifting in the past. Rather, that music is an integral part of who he is, as the music we grow up with often becomes the music we grow old with as well."
— PopMatters

"This book is a gift and a joy! My own life story comprised a tapestry of tracks that felt just like this, a mind-map of music. Corbett's journey through the universe of each song is detailed, deep, and soulful."
— Neneh Cherry, singer

"This is a love cry. A cornucopia of zappy chapters, dedicated to the question as to what '70s music means. Deliciously nonpartisan, curious, open-eared, Corbett honors cross-pollinating musical fusions in a fleet, polymorphous prose that wears great knowledge lightly. There are bits of memoir here—but no dull autobiographical trudge. There are famous names—but deep obscurants, too. Above all: no yawnsome retreads of ye olde rock lore. It helps that Corbett's right about everything. Pick Up the Pieces is another gem in a maverick diadem."
— Lars Iyer, philosopher and author of Wittgenstein Jr. and the trilogy Spurious, Dogma, and Exodus.

"They say that real edge never grows old. Steering back and forth between sexual and musical first times—best times!—Corbett does justice to all sorts of intensity."
— Arto Lindsay, former guitarist for DNA

 "'Time takes a cigarette and puts it in your mouth'—Bowie croons, addressing a weary soul at the start of 'Rock 'n' Roll Suicide.' The singer/prophet/alien holds out a hand to pick YOU up. Listen! Exalt! And like a fellow space commuter, Corbett clocks the tunes and throws out lines to the untethered. Dear reader, forget your age. The 'seventies' is an abstract pattern. Doesn't matter if you were an adult, a teenager, a tot, or not yet conceived in that decade, turn-on with Corbett in this one."
— Gregg Bordowitz, artist and author of Tenement and Volition

"Appropriately, in the aptly titled Pick Up the Pieces, some 85 separate albums and groups are part of the author's own personal excursions, all surging forward at breakneck speed attempting to creatively reflect the times in which they lived and worked, all looking for what rare magic, if any, could come next after the decline and fall of an admittedly unique band and the equally dreamy decade before them. Where to now? That is the schematic blueprint for Corbett's captivating and highly personal musical map. And it works beautifully."
— Donald Brackett
University of Chicago Press, 9780226604732, 496pp.
Publication Date: March 1, 2019
About the Author
John Corbett is the author of several books, including A Listener's Guide to Free Improvisation, Vinyl Freak: Love Letters to a Dying Medium, and Microgroove: Forays into Other Music. He is co-owner of Corbett vs. Dempsey, an art gallery in Chicago. 
or
Not Currently Available for Direct Purchase