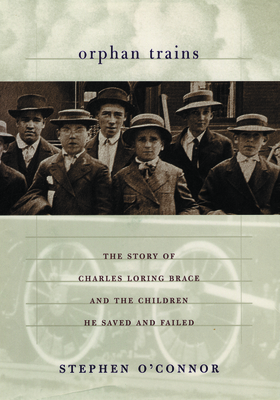 Orphan Trains (Paperback)
The Story of Charles Loring Brace and the Children He Saved and Failed
University of Chicago Press, 9780226616674, 384pp.
Publication Date: March 1, 2004
* Individual store prices may vary.
Description
In mid-nineteenth-century New York, vagrant youth, both orphans and runaways, filled the streets. For years the city had been sweeping these children into prisons or almshouses, but in 1853 the young minister Charles Loring Brace proposed a radical solution to the problem by creating the Children's Aid Society, an organization that fought to provide homeless children with shelter, education, and, for many, a new family in the country. Combining a biography of Brace with firsthand accounts of orphans, Stephen O'Connor here tells of the orphan trains that, between 1854 and 1929, spirited away some 250,000 destitute children to rural homes in every one of the forty-eight contiguous states.

A powerful blend of history, biography, and adventure, Orphans Trains remains the definitive work on this little-known episode in American history.

About the Author
Stephen O'Connor teaches creative writing at Columbia University and Sarah Lawrence College. He is the author of Will My Name Be Shouted Out?, an account of his years teaching creative writing at an inner-city school in New York, and a collection of short fiction, Rescue.
Praise For Orphan Trains: The Story of Charles Loring Brace and the Children He Saved and Failed…
"O'Connor tells these stories lucidly and gracefully. He is particularly evocative in his descriptions of the transportation conditions the children endured, the conditions of urban poverty in New York in the 1800s, and of a typical day of a New York newsboy."


— Ruth Wallis Herndon
"O'Connor's immensely readable book vividly portrays Brace and the world in which he operated. Orphan Trains not only offers us a trip to the past but provides historical context crucial to understanding and evaluating present-day attitudes and policies about poverty, families, and children."


— Merle Rubin
"O'Connor tells the story of the orphan trains in a beautifully written book. . . . It is an intellectual history of an enterprise that was part genius and part folly, one that continues to haunt the American imagination."
— Joan Gittens
"Once again, O'Connor has used his empathetic genius to bring to life the world of children—this time, the poor children of nineteenth-century New York City. The human problems this book illuminates are problems we have not yet solved." <Louis Menand
— Louis Menand
"With grace and precision, and a novelist's sense of time, place, and character, Stephen O'Connor has thoughtfully retraced the gripping, often harrowing tale, showing us in the process how a great city came both to abandon and to redeem some of its most vulnerable citizens." <Ric Burns, director of the PBS series New York
— Ric Burns, director of the PBS series New York
"In chronicling one of the first ambitious, privately sponsored social welfare programs in the United States, Mr. O'Connor provides an absorbing portrait of the nation at a moment of wrenching change, a moment that has in many ways not yet passed. . . . <I>Orphan Trains<I> is a moving and instructive story, and as he tells it, Mr. O'Connor never loses sight of the real people and real lives at its center."
— Richard Bernstein