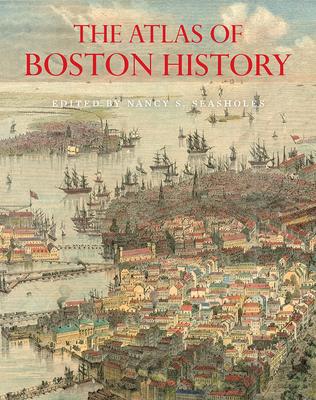 The Atlas of Boston History
Hardcover

* Individual store prices may vary.
Description
Few American cities possess a history as long, rich, and fascinating as Boston's. A site of momentous national political events from the Revolutionary War through the civil rights movement, Boston has also been an influential literary and cultural capital. From ancient glaciers to landmaking schemes and modern infrastructure projects, the city's terrain has been transformed almost constantly over the centuries. The Atlas of Boston History traces the city's history and geography from the last ice age to the present with beautifully rendered maps.
 
Edited by historian Nancy S. Seasholes, this landmark volume captures all aspects of Boston's past in a series of fifty-seven stunning full-color spreads. Each section features newly created thematic maps that focus on moments and topics in that history. These maps are accompanied by hundreds of historical and contemporary illustrations and explanatory text from historians and other expert contributors. They illuminate a wide range of topics including Boston's physical and economic development, changing demography, and social and cultural life. In lavishly produced detail, The Atlas of Boston History offers a vivid, refreshing perspective on the development of this iconic American city.

Contributors
Robert J. Allison, Robert Charles Anderson, John Avault, Joseph Bagley, Charles Bahne, Laurie Baise, J. L. Bell, Rebekah Bryer, Aubrey Butts, Benjamin L. Carp, Amy D. Finstein, Gerald Gamm, Richard Garver, Katherine Grandjean, Michelle Granshaw, James Green, Dean Grodzins, Karl Haglund, Ruth-Ann M. Harris, Arthur Krim, Stephanie Kruel, Kerima M. Lewis, Noam Maggor, Dane A. Morrison, James C. O'Connell, Mark Peterson, Marshall Pontrelli, Gayle Sawtelle, Nancy S. Seasholes, Reed Ueda, Lawrence J. Vale, Jim Vrabel, Sam Bass Warner, Jay Wickersham, and Susan Wilson
Praise For The Atlas of Boston History…
"The success of Walter Muir Whitehill's Boston: A Topographical History many years ago demonstrated how oddly well Boston's history can be told in maps and pictures, and that approach has never been so compellingly done as in this lovely volume."
— Open Letters Review

"The informative images throughout the book deliver quick and punchy snapshots of particular points in Boston's history. . . . It's quite striking. . . This is not an atlas of historic maps, but instead a telling of Boston's physical, social, economic, and cultural history as it formed using specially crafted maps and carefully tailored graphics."
— The Portolan

"Seasholes impressively brings together contributions from over 30 historians, city planners, cartographers, and independent scholars in this first comprehensive book of maps for one of the US's most studied cities. Ranging from the last ice age to the present climate-change era, this hefty tome chronologically and visually traces geographic, cultural, political, social, and economic transformations of the greater Boston area. . . . Students and scholars will appreciate the atlas's breadth of coverage, and readers already familiar with Boston may use it as a source of additional enlightenment. Highly recommended."
— CHOICE

"The Atlas of Boston History excavates four centuries of the city's rise, fall, and rise again. With thoughtful essays that introduce new maps and historic sources, the authors guide the reader through the city's evolution from multiple angles. The result is a chronological picture of the environmental, social, cultural, and intellectual history of one of North America's most enduring urban centers. General readers will appreciate its clear explanation of the city's spatial history, while scholars will profit from a vital reference work that also serves as a source of new discovery."
— Susan Schulten, author of A History of America in 100 Maps

"The Atlas of Boston History is a visual feast and a triumph of storytelling through words and images. Mapping the forces that have shaped and reshaped the city, from the Ice Age to the Big Dig to Global Warming, this panoramic narrative also encompasses the human saga of a diverse population and its ongoing struggles to forge a just society."
— Barnet Schecter, author of George Washington's America: A Biography Through His Maps

"...what sets this book apart is its beauty. As the name Atlas indicates, it is richly illustrated with maps, charts, diagrams, infographics, historical photos, paintings, and more.  It's a book that I will use as a reference far into the future, and one that any of my fellow Boston history nerds will love."
— HUB History

"One of the best, most comprehensive, and sophisticated interpretive atlases possible that historical expertise, elegant cartographic design, and civic consciousness could muster. . . . [An] impressive work."
— Urban Morphology

"The Atlas of Boston History is a beautifully-produced, large-format volume, with 57 full-colour spreads tackling a range of pertinent topics, the maps supported by photographs and graphs, and the whole in an appendix that provides additional information and sources... First-rate throughout."
— Jeremy Black
University of Chicago Press, 9780226631158, 224pp.
Publication Date: October 10, 2019
About the Author
Nancy S. Seasholes is a historian and historical archaeologist who works as an independent scholar. Her books include Gaining Ground: A History of Landmaking in Boston and Walking Tours of Boston's Made Land.