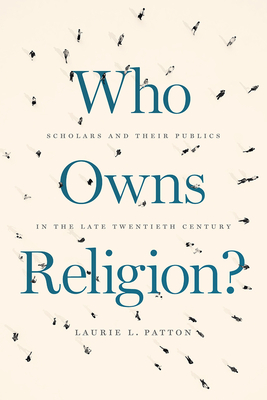 Who Owns Religion?
Scholars and Their Publics in the Late Twentieth Century
Hardcover

* Individual store prices may vary.
Other Editions of This Title:
Paperback (11/27/2019)
Description
Who Owns Religion? focuses on a period—the late 1980s through the 1990s—when scholars of religion were accused of scandalizing or denigrating the very communities they had imagined themselves honoring through their work. While controversies involving scholarly claims about religion are nothing new, this period saw an increase in vitriol that remains with us today. Authors of seemingly arcane studies on subjects like the origins of the idea of Mother Earth or the sexual dynamics of mysticism have been targets of hate mail and book-banning campaigns. As a result, scholars of religion have struggled to describe their own work to their various publics, and even to themselves.

Taking the reader through several compelling case studies, Patton identifies two trends of the '80s and '90s that fueled that rise: the growth of multicultural identity politics, which enabled a form of volatile public debate she terms "eruptive public space," and the advent of the internet, which offered new ways for religious groups to read scholarship and respond publicly. These controversies, she shows, were also fundamentally about something new: the very rights of secular, Western scholarship to interpret religions at all.

Patton's book holds out hope that scholars can find a space for their work between the university and the communities they study. Scholars of religion, she argues, have multiple masters and must move between them while writing histories and speaking about realities that not everyone may be interested in hearing.
 
Praise For Who Owns Religion?: Scholars and Their Publics in the Late Twentieth Century…
"At a time when discussions of the relationship between academics and their publics are more often reduced to utilitarian meditations on 'impact' and 'research excellence', Who Owns Religion? is a welcome antidote: a rich, timely and dynamic exploration of the uncharted spaces between."
— Times Higher Education

"Who Owns Religion? boldly identifies and deftly navigates the complex 'eruptive public space' that arises when scholars of religion and their multiple publics collide. Patton presents a grounded understanding of particular controversies across multiple traditions, and provides a searching analysis of the larger question of whether religion can be theorized at all without concomitant theorization of the university, the non-academic institution, and the public sphere. Patton's constructive pathways across this entanglement make this deeply reflexive and well-written study powerfully relevant to any discipline that claims a public face."
— Leela Prasad, Duke University

"Since its origins in the nineteenth century, the academic study of religion has mostly operated independently of the world of religious adherents. This changed in the late twentieth century, leaving scholars reeling from the intensity of the opprobrium to which their work was subjected. Patton explains the cultural and historical forces that led to the conflict, and, importantly, how we can move beyond the impasse. Filled with insights, Who Owns Religion? is a must read for anyone interested in the study of religion at the turn of the millennium."
— José Ignacio Cabezón, University of California, Santa Barbara
University of Chicago Press, 9780226649344, 320pp.
Publication Date: November 27, 2019
About the Author
Laurie L. Patton is president of Middlebury College and president of the American Academy of Religion for 2019. Her books include Bringing the Gods to Mind: Mantra and Ritual in Early Indian Sacrifice.
 
or
Not Currently Available for Direct Purchase