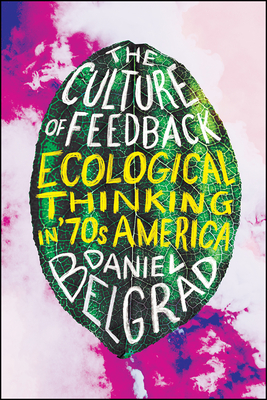 The Culture of Feedback
Ecological Thinking in Seventies America
Paperback

* Individual store prices may vary.
Other Editions of This Title:
Hardcover (8/30/2019)
Description
When we want advice from others, we often casually speak of "getting some feedback." But how many of us give a thought to what this phrase means? The idea of feedback actually dates to World War II, when the term was developed to describe the dynamics of self-regulating systems, which correct their actions by feeding their effects back into themselves. By the early 1970s, feedback had become the governing trope for a counterculture that was reoriented and reinvigorated by ecological thinking.

The Culture of Feedback digs deep into a dazzling variety of left-of-center experiences and attitudes from this misunderstood period, bringing us a new look at the wild side of the 1970s. Belgrad shows us how ideas from systems theory were taken up by the counterculture and the environmental movement, eventually influencing a wide range of beliefs and behaviors, particularly related to the question of what is and is not intelligence. He tells the story of a generation of Americans who were struck by a newfound interest in—and respect for—plants, animals, indigenous populations, and the very sounds around them, threading his tapestry with cogent insights on environmentalism, feminism, systems theory, and psychedelics. The Culture of Feedback repaints the familiar image of the '70s as a time of Me Generation malaise to reveal an era of revolutionary and hopeful social currents, driven by desires to radically improve—and feed back into—the systems that had come before.
Praise For The Culture of Feedback: Ecological Thinking in Seventies America…
"Belgrad's book is a big, hulking idea, laid out in fractal detail. . . .He gives us Talmudic exegeses of everything from the famous "crying Indian" public service announcement to John Cage's works to a lesser-known EPA pamphlet cautioning against the dangers of noise pollution. . . .  Belgrad makes a convincing argument for looking carefully at this past, parsing it gently. In a moment without much optimism, it might be worth recovering these old seeds of hope."
— Los Angeles Review of Books
"This book is a glittering kaleidoscope, spinning through cybernetic theory, ecofeminism, the music of Brian Eno, and the songs of whales. As important as it is fun, The Culture of Feedback shows us how science and American culture shaped each other in the 1970s and, in the process, shaped our lives today."
— Fred Turner, author of From Counterculture to Cyberculture
"Belgrad offers a valuable reassessment of the American 1970s in this wide-ranging, clearly written account of an ecological 'culture of feedback' whose diverse roots ranged from Norbert Wiener's cybernetics to Gary Snyder's explorations of Native American philosophy, and whose theories of self-organizing coevolutionary development animated such varied endeavors as John Lilly's work with dolphins and Brian Eno's ambient music. Belgrad's superb intellectual history counters the widespread notion that the decade was marked by a narcissistic national decline."
— Jeffrey L. Meikle, author of Design in the USA
"Recommended. . . Belgrad has made a significant contribution to understanding the 1970s."
— Choice
"There's something particularly enjoyable about a volume of intellectual history that deals with serious ideas but also makes some room for their less respectable offspring."
— Inside Higher Ed
"Data from the philosophical, the political and the aesthetic sit side by side in these pages, with nary a creak in the prose."
— S-USIH
University of Chicago Press, 9780226652535, 264pp.
Publication Date: August 30, 2019
About the Author
Daniel Belgrad is associate professor in the College of Arts and Sciences at the University of South Florida and author of The Culture of Spontaneity, also published by the University of Chicago Press.