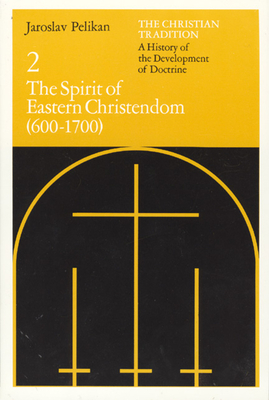 The Christian Tradition
A History of the Development of Doctrine, Volume 2: The Spirit of Eastern Christendom (600-1700) (The Christian Tradition: A History of the Development of Christian Doctrine #2)
Paperback

* Individual store prices may vary.
Other Editions of This Title:
Paperback (10/4/1991)
Paperback (8/15/1975)
Paperback (8/15/1980)
Description
The line that separated Eastern Christendom from Western on the medieval map is similar to the "iron curtain" of recent times. Linguistic barriers, political divisions, and liturgical differences combined to isolate the two cultures from each other. Except for such episodes as the schism between East and West or the Crusades, the development of non-Western Christendom has been largely ignored by church historians. In The Spirit of Eastern Christendom, Jaroslav Pelikan explains the divisions between Eastern and Western Christendom, and identifies and describes the development of the distinctive forms taken by Christian doctrine in its Greek, Syriac, and early Slavic expression.

"It is a pleasure to salute this masterpiece of exposition. . . . The book flows like a great river, slipping easily past landscapes of the utmost diversity—the great Christological controversies of the seventh century, the debate on icons in the eighth and ninth, attitudes to Jews, to Muslims, to the dualistic heresies of the high Middle Ages, to the post-Reformation churches of Western Europe. . . . His book succeeds in being a study of the Eastern Christian religion as a whole."—Peter Brown and Sabine MacCormack, New York Review of Books

"The second volume of Professor Pelikan's monumental work on The Christian Tradition is the most comprehensive historical treatment of Eastern Christian thought from 600 to 1700, written in recent years. . . . Pelikan's reinterpretation is a major scholarly and ecumenical event."—John Meyendorff

"Displays the same mastery of ancient and modern theological literature, the same penetrating analytical clarity and balanced presentation of conflicting contentions, that made its predecessor such an intellectual treat."—Virgina Quarterly Review


University of Chicago Press, 9780226653730, 358pp.
Publication Date: July 15, 1977
About the Author
Jaroslav Pelikan (1923-2006) was Sterling Professor of History Emeritus at Yale University.