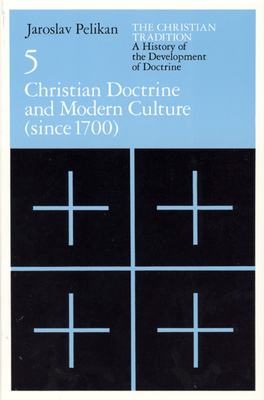 The Christian Tradition
A History of the Development of Doctrine, Volume 5: Christian Doctrine and Modern Culture (since 1700) (The Christian Tradition: A History of the Development of Christian Doctrine #5)
Paperback

* Individual store prices may vary.
Other Editions of This Title:
Paperback (7/15/1977)
Paperback (8/15/1975)
Paperback (8/15/1980)
Description
Jaroslav Pelikan begins this volume with the crisis of orthodoxy that confronted all Christian denominations by the beginning of the eighteenth century and continues through the twentieth century in its particular concerns with ecumenism. The modern period in the history of Christian doctrine, Pelikan demonstrates, may be defined as the time when doctrines that had been assumed more than debated for most of Christian history were themselves called into question: the idea of revelation, the uniqueness of Christ, the authority of Scripture, the expectation of life after death, even the very transcendence of God.

"Knowledge of the immense intellectual effort invested in the construction of the edifice of Christian doctrine by the best minds of each successive generation is worth having. And there can hardly be a more lucid, readable and genial guide to it than this marvellous work."—Economist

"This volume, like the series which it brings to a triumphant conclusion, may be unreservedly recommended as the best one-stop introduction currently available to its subject."—Alister E. McGrath, Times Higher Education Supplement

"Professor Pelikan's series marks a significant departure, and in him we have at last a master teacher."—Marjorie O'Rourke Boyle, Commonweal

"Pelikan's book marks not only the end of a dazzling scholarly effort but the end of an era as well. There is reason to suppose that nothing quite like it will be tried again."—Harvey Cox, Washington Post Book World
University of Chicago Press, 9780226653808, 414pp.
Publication Date: October 4, 1991
About the Author
Jaroslav Pelikan (1923-2006) was Sterling Professor of History Emeritus at Yale University.