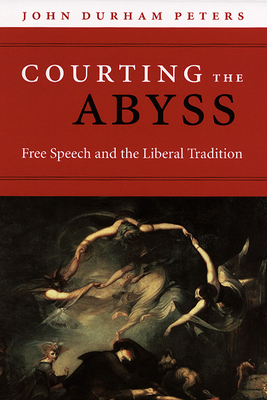 Courting the Abyss
Free Speech and the Liberal Tradition
Hardcover

* Individual store prices may vary.
Other Editions of This Title:
Paperback (8/7/2020)
Description
"Courting the Abyss" updates the philosophy of free expression for a world that is very different from the one in which it originated. The notion that a free society should allow Klansmen, neo-Nazis, sundry extremists, and pornographers to spread their doctrines as freely as everyone else has come increasingly under fire. At the same time, in the wake of 9/11, the Right and the Left continue to wage war over the utility of an absolute vision of free speech in a time of increased national security. "Courting the Abyss" revisits the tangled history of free speech, finding resolutions to these debates hidden at the very roots of the liberal tradition.
A mesmerizing account of the role of public communication in the Anglo-American world, "Courting the Abyss" shows that liberty's earliest advocates recognized its fraternal relationship with wickedness and evil. While we understand freedom of expression to mean "anything goes," John Durham Peters asks why its advocates so often celebrate a sojourn in hell and the overcoming of suffering. He directs us to such well-known sources as the prose and poetry of John Milton and the political and philosophical theory of John Locke, Adam Smith, John Stuart Mill, and Oliver Wendell Holmes Jr., as well as lesser-known sources such as the theology of Paul of Tarsus. In various ways they all, he shows, envisioned an attitude of self-mastery or self-transcendence as a response to the inevitable dangers of free speech, a troubled legacy that continues to inform ruling norms about knowledge, ethical responsibility, and democracy today.
A world of gigabytes, undiminished religious passion, and relentless scientific discovery calls for a fresh account of liberty that recognizes its risk and its splendor. Instead of celebrating noxious doctrine as proof of society's robustness, "Courting the Abyss" invites us to rethink public communication today by looking more deeply into the unfathomable mystery of liberty and evil.

Praise For Courting the Abyss: Free Speech and the Liberal Tradition…
"In Courting the Abyss, John Durham Peters pokes some serious fun at free-speech purists—he calls them ''abyss-artists''—who seek occasions to ''show off the advanced state of their self-mastery'' by defending doctrines they loathe. The civilized, he observes, ''take pride in their ability to entertain abominations'' and rarely consider that the abominations they entertain may be doing real, and bad, work. Peters names it as our task to ''find ways to sustain openness and other-mindedness'' independently of the ''cult of toughness'' and without ignoring the genuine risks. A wide-ranging and exhilarating re-opening of an old but ever-renewed question."—Stanley Fish


-Stanley Fish

`"Free speech is not only under attack, it is misunderstood. The political tradition that once sustained it is fading, and its very defenders often undermine it by making a spectacle of their own tolerance. In this context, John Durham Peters''s judicious tracing of both the free speech tradition and the moral and intellectual challenges it faces is very welcome. Courting the Abyss is an eloquent plea for more careful thought and a wise analysis of our predicament. It is not entirely reassuring, but it is eminently valuable."—Craig Calhoun, New York University


-Craig calhoun

"Witty, irreverent, and intellectually daring: John Durham Peters has written the best scholarly book on freedom of speech in more than a generation. He shows us how and why we should doubt simple-minded orthodoxy of every kind. A master wordsmith with a wonderful brain, Peters writes against hubris, even the hubris of free speech."—John Keane, Centre for the Study of Democracy, University of Westminster

-John Keane

"Peters has written an interesting and provocative book. . . . Courting the Abyss is about free speech generally, but it focuses on this suggestion that we all become better people through tolerating the most hateful and diabolical speech, by staring at and listening to the Nazis and the racists in our midst. Peters is interested particularly in the expression of a Stoic sense of virtue and self-mastery in the free-speech position. The civil libertarian says: I am sufficiently in control of myself to look on the Nazis without contamination. I will not be brought down to their level. By staring at their swastikas and paying attention to their slogans, I grow and become a better person. Indeed, we all become better people and our society becomes a better society with this ability to look unflinchingly into the abyss of racial hatred. Peters's book is a story of 'abyss-artists', who put their evil on public display, and 'abyss-redeemers', who believe in a moral alchemy that can make virtue out of our gaze into hell. (Abyss-avoiders, on the other hand, are those who recoil from the display and either shield their own and others' eyes or at least demand a better reason for 'defending to the death' the Nazis' right to march through Skokie.) Abyss-redemption, he says, is a major and neglected theme in the history of liberal thought. . . . Peters has, I think, done us a service in pursuing this idea of abyss-redemption. I don't mean he commends it to us: he does not. But he rightly observes that we had better come to terms with it if we want to understand what is really going on, what has been going on for centuries, in free-speech debates. More than that, Courting the Abyss explores a number of connections between abyss-redemption as used specifically in this context, and other areas of life and culture where it is said that we are the better for gazing unflinchingly at sin or death or evil."--Jeremy Waldron, London Review of Books 
-Jeremy Waldron
University of Chicago Press, 9780226662749, 309pp.
Publication Date: April 15, 2005
About the Author
John Durham Peters is F. Wendell Miller Distinguished Professor in the Department of Communication Studies at the University of Iowa. He is coeditor of several volumes and the author of "Speaking into the Air, " also published by the University of Chicago Press.
or
Not Currently Available for Direct Purchase