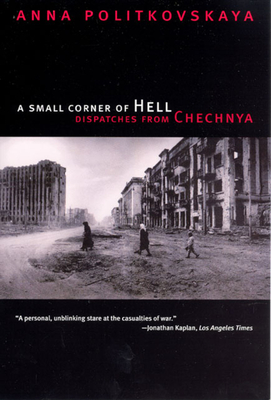 A Small Corner of Hell (Paperback)
Dispatches from Chechnya
University of Chicago Press, 9780226674339, 232pp.
Publication Date: April 15, 2007
Other Editions of This Title:
Hardcover (10/3/2003)
* Individual store prices may vary.
Description
The recent murder of Anna Politkovskaya is grim evidence of the danger faced by journalists passionately committed to writing the truth about wars and politics.  A longtime critic of the Russian government, particularly with regard to its policies in Chechnya, Politkovskaya was a special correspondent for the liberal Moscow newspaper Novaya gazeta.  Beginning in 1999, Politkovskaya authored numerous articles about the war in Chechnya, and she was the only journalist to have constant access to the region.

Politkovskaya's second book on the Chechen War,  A Small Corner of Hell, offers an insider's view of this ongoing conflict.  In this book, Politkovskaya focuses her attention on those caught in the crossfire.  She recounts the everyday horrors of living in the midst of war, examines how the Chechen war has damaged Russian society, and takes a hard look at the ways people on both sides profited from it.  Now available in paperback,  A Small Corner of Hell ensures that Politkovskaya's words will not be erased.
"[A Small Corner of Hell] skips harrowingly from year to year and place to place.  The arch-villains are the Russian death squads, venal and brutal, and the complacent, lying politicians and generals who profit from the illegal trade in booty, oil, and captives.  Her heroes are not the Chechen resistance—a gangsterish and ill-fed lot—but the long-suffering civilian population, whose natural grit and solidarity has gradually dissolved under the relentless brutality of daily life."
—Economist
        "A personal, unblinking stare at the casualties of war."
—Jonathan Kaplan, Los Angeles Times
About the Author
Anna Politkovskaya (1958-2006) received the Golden Pen Award from the Russian Union of Journalists in 2000, the Courage in Journalism Award from the International Women's Media Foundation, and the Prize for Journalism and Democracy from the Organization for Security and Co-operation in Europe.