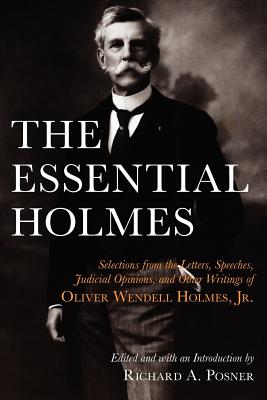 The Essential Holmes
Selections from the Letters, Speeches, Judicial Opinions, and Other Writings of Oliver Wendell Holmes, Jr.
Paperback

* Individual store prices may vary.
Description
Oliver Wendell Holmes, Jr., has been called the greatest jurist and legal scholar in the history of the English-speaking world. In this collection of his speeches, opinions, and letters, Richard Posner reveals the fullness of Holmes' achievements as judge, historian, philosopher, and master of English style. Thematically arranged, the volume covers a rich variety of subjects from aging and death to themes in politics, personalities, and law. Posner's substantial introduction firmly places this wealth of material in its proper biographical and historical context.

"A first-rate prose stylist, [Holmes] was perhaps the most quotable of all judges, as this ably edited volume shows."—Washington Post Book World

"Brilliantly edited, lucidly organized, and equipped with a compelling introduction by Judge Posner, [this book] is one of the finest single-volume samplers of any author's work I have seen. . . . Posner has fully captured the acrid tang of him in this masterly anthology."—Terry Teachout, National Review

"Excellent. . . . A worthwhile contribution to current American political/legal discussions."—Library Journal

"The best source for the reader who wants a first serious acquaintance with Holmes."—Thomas C. Grey, New York Review of Books

University of Chicago Press, 9780226675541, 374pp.
Publication Date: January 1, 1997
About the Author
Richard A. Posner is a judge of the US Court of Appeals for the Seventh Circuit and a senior lecturer in law at the University of Chicago Law School. His many books on the application of economics to law include Economic Analysis of Law, now in its fifth edition.