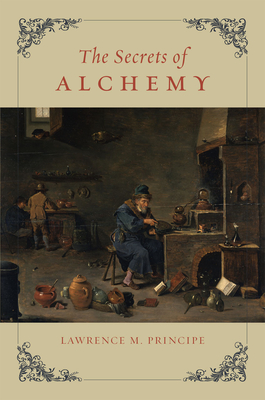 The Secrets of Alchemy
Hardcover

* Individual store prices may vary.
Other Editions of This Title:
Paperback (11/18/2015)
Description
In The Secrets of Alchemy, Lawrence M. Principe, one of the world's leading authorities on the subject, brings alchemy out of the shadows and restores it to its important place in human history and culture. By surveying what alchemy was and how it began, developed, and overlapped with a range of ideas and pursuits, Principe illuminates the practice. He vividly depicts the place of alchemy during its heyday in early modern Europe, and then explores how alchemy has fit into wider views of the cosmos and humanity, touching on its enduring place in literature, fine art, theater, and religion as well as its recent acceptance as a serious subject of study for historians of science. In addition, he introduces the reader to some of the most fascinating alchemists, such as Zosimos and Basil Valentine, whose lives dot alchemy's long reign from the third century and to the present day. Through his exploration of alchemists and their times, Principe pieces together closely guarded clues from obscure and fragmented texts to reveal alchemy's secrets, and--most exciting for budding alchemists--uses them to recreate many of the most famous recipes in his lab, including those for the -glass of antimony- and -philosophers' tree.- This unique approach brings the reader closer to the actual work of alchemy than any other book.

Praise For The Secrets of Alchemy…
"This ele­gant, readable book, packed with information and reve­lation, covers the history of alchemy from its shadowy origins in Hellenistic Egypt to its scholarly recovery in the 20th century. Lawrence M. Principe traces the contours of a mil­lennial tradition and shows exactly why Newton and many other brilliantly gifted scientists found so much promise in it. . . . Again and again, Principe melds rich his­torical erudition with deft chemical manip­ulation. The results are always convincing and sometimes—as when one recipe yields a golden object in the form of a tree—breathtaking." 
-Anthony Grafton

"The Secrets of Alchemy comes closer than any other single work to explaining the grounds—rational and empirical, as well as religious and wishful—for alchemy's longevity. Lawrence Principe's delightful writing style brings to life a depth of learning matched by few in the field. This expertise, coupled with the author's determination to strip his topic of anachronism, sets The Secrets of Alchemy apart from the usual introductory tome. After comments on alchemy's lingering popular appeal (think Harry Potter and Fullmetal Alchemist), Principe engages with the misconceptions that have long dogged his subject, particularly its association with magic, mysticism and quackery. A key premise of the book is that these are often modern associations. To understand how alchemy 'worked' for its practitioners, we must meet them on their own terms."

"A historian of science and practicing chemist, Lawrence M. Principe provides a dazzling account of how scholarly opinion on the relationship between alchemy and chemistry has transformed in the last four decades. In the process he brings chemical knowledge and historical detective work to a subject that has too readily been dismissed as fraudulent nonsense."

"A work that edifies and entertains. . . . Chemistry is at the heart of Lawrence Principe's effort, and his deft use of the discipline in his historical research is one of the book's principal strengths. . . . Principe's attempts to replicate alchemy in a modern laboratory yield strange, wondrous, and yet thoroughly explicable phenomena."

"The absence of a modern history of alchemy that is at both scholarly and accessible has been perplexing and frustrating. But at last this gap is filled, and by one of the experts best qualified to do so. Lawrence M. Principe's survey is not just reliable and engaging but an essential corrective to the many depictions that romanticize, misdirect, or muddy our view of what alchemy was about. Principe's erudite demystification will enable alchemy to take its proper place as an important stage in the evolution of technology, science, and our understanding of the world."
-Philip Ball, author of Shapes: Natures Patterns: A Tapestry in Three Parts

"Lawrence Principe has produced a work that is eminently readable and that sacrifices none of its critical edge or erudition.  . . . It's precisely the fact that alchemy is such an elusive target, and such a mélange of the practical and the ridiculous, the physical and the metaphysical, that makes Principe's book so engaging. The Secrets of Alchemy is one of those rare books that, in the best possible sense, asks many more questions than it can answer, with each answered question suggesting a host of other lines of thought."



 "The book's greatest accomplishment is its depiction of the values and assumptions that formed the alchemical worldview, and how they preceded, coexisted with, and led to a structured scientific methodology. In the sections most entertaining for general readers, Principe recreates various alchemical recipes. As a clear elucidation of a fascinating but, by its nature, obscure topic, this book will appeal to those interested in the history of science."

"Making sense out of alchemy is nearly as consuming and difficult a project as making gold with it.  Lawrence M. Principe has the requisite clarity of mind and purity of heart, as well as a willingness to risk getting burned (literally!).  The Secrets of Alchemy is an eminently lucid treatment of a tenebrous subject, at once learned and reader-friendly, and enormously winning."
-John Crowley, author of Little, Big

"With his characteristic erudition, wit, and lucid prose, Lawrence M. Principe synthesizes the explosion of new scholarship in the history of alchemy and makes it available to a wider public. This is a must-read for anyone who wants to understand the historical ideas, practices, and personalities at the heart of this centuries-old tradition, as well as the cultural forces that have shaped how we understand alchemy today."

-Tara Nummedal, Brown University

"This is a terrific book, absolutely essential for anyone interested in a historical understanding of alchemical theory and practice. Lawrence Principe masterly clears up the jumble of (mis)information that has surrounded a subject that many think they understand—when in fact they do not—and he escorts the reader back into original texts, revealing their content and purposes. There is no other book on alchemy like this."
-Bruce Moran, author of Andreas Libavius and the Transformation of Alchemy

"Lawrence M. Principe has long been at the vanguard of scholars who seek to show that, alchemists were really early chemists, not blindly struggling to turn substances into gold but operating, like scientists today, within an intellectual framework that guided their practical work. In The Secrets of Alchemy, an elegantly written summary of two decades of his own research, Mr. Principe describes this framework."


"Principe's own alchemical experiments (which he undertakes following instructions from alchemical text -- albeit at times cloaked in 'allegorical' detail he must first unravel) do provide clear substantiation of the forward-thinking functionality occurring in the historical alchemy workshop. While Principe himself never quite turns lead into gold, he nonetheless demonstrates beyond a doubt just how grounded and rigorous the practice of alchemy remains when held up against the scientific method. . . .This is a first-rate guide to the discipline while also usefully serving as a necessary reminder of the benefits brought on by a broad-encompassing and unflinching open approach towards discovery in any historical subject."    
University of Chicago Press, 9780226682952, 281pp.
Publication Date: November 1, 2012
About the Author
Lawrence M. Principe is the Drew Professor of the Humanities in the Department of the History of Science and Technology and the Department of Chemistry at Johns Hopkins University. His books include The Scientific Revolution: A Very Short Introduction and Alchemy Tried in the Fire: Starkey, Boyle, and the Fate of Helmontian Chymistry, also published by the University of Chicago Press.
or
Not Currently Available for Direct Purchase