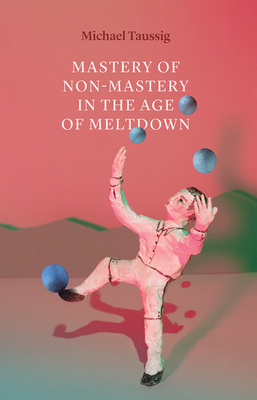 Mastery of Non-Mastery in the Age of Meltdown
Paperback

* Individual store prices may vary.
Other Editions of This Title:
Hardcover (7/15/2020)
Description
For centuries, humans have excelled at mimicking nature in order to exploit it. Now, with the existential threat of global climate change on the horizon, the ever-provocative Michael Taussig asks what function a newly invigorated mimetic faculty might exert along with such change. Mastery of Non-Mastery in the Age of Meltdown is not solely a reflection on our condition but also a theoretical effort to reckon with the impulses that have fed our relentless ambition for dominance over nature.
 
Taussig seeks to move us away from the manipulation of nature and reorient us to different metaphors and sources of inspiration to develop a new ethical stance toward the world. His ultimate goal is to undo his readers' sense of control and engender what he calls "mastery of non-mastery." This unique book developed out of Taussig's work with peasant agriculture and his artistic practice, which brings performance art together with aspects of ritual. Through immersive meditations on Walter Benjamin, D. H. Lawrence, Emerson, Bataille, and Proust, Taussig grapples with the possibility of collapse and with the responsibility we bear for it.
Praise For Mastery of Non-Mastery in the Age of Meltdown…
"Anthropologists (and those in allied disciplines) know Taussig as a stylistic innovator."—Times Literary Supplement
 
"Above all, he is interested in individual stories and experiences, unique tales that cannot be reduced to rational explanation or bland report. . . . At the center of Taussig's method is the anthropologist's desire to bear witness to what he cannot understand."—Los Angeles Review of Books
 
"One of the most accomplished writers that anthropology has produced."—Choice
 
"Iconoclastic, experimental, and poetic, refusing 'theory' even as he makes it do his work."—Hugh Raffles, The New School
 
"[This is] what anthropology is for: the art or science that shows fish the water. Taussig is renowned as one of its dizziest dialectical conjurors."—Times Higher Education
 
" [Taussig's] late career unfolds with vitality, ingenuity, and surprises—with the storytelling voice, finally, of a Marlowe."—George Marcus, University of California, Irvine
— Praise for Michael Taussig
University of Chicago Press, 9780226698670, 192pp.
Publication Date: July 15, 2020
About the Author
Michael Taussig is the Class of 1933 Professor of Anthropology at Columbia University. He is the author of several books, including The Corn Wolf, Beauty and the Beast, and Palma Africana, all published by the University of Chicago Press.