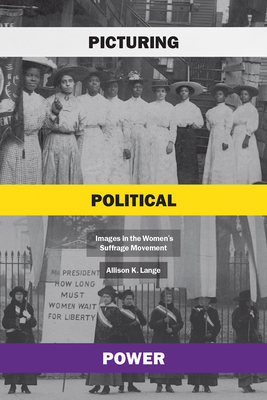 Picturing Political Power
Images in the Women's Suffrage Movement
Hardcover

* Individual store prices may vary.
Description
For as long as women have battled for equitable political representation in America, those battles have been defined by images—whether illustrations, engravings, photographs, or colorful chromolithograph posters. Some of these pictures have been flattering, many have been condescending, and others downright incendiary. They have drawn upon prevailing cultural ideas of women's perceived roles and abilities and often have been circulated with pointedly political objectives.

Picturing Political Power offers perhaps the most comprehensive analysis yet of the connection between images, gender, and power. In this examination of the fights that led to the ratification of the Nineteenth Amendment in 1920, Allison K. Lange explores how suffragists pioneered one of the first extensive visual campaigns in modern American history. She shows how pictures, from early engravings and photographs to colorful posters, proved central to suffragists' efforts to change expectations for women, fighting back against the accepted norms of their times. In seeking to transform notions of womanhood and win the right to vote, white suffragists emphasized the compatibility of voting and motherhood, while Sojourner Truth and other leading suffragists of color employed pictures to secure respect and authority. Picturing Political Power demonstrates the centrality of visual politics to American women's campaigns throughout the nineteenth and early twentieth centuries, revealing the power of images to change history.
Praise For Picturing Political Power: Images in the Women's Suffrage Movement…
"An in-depth look at how American suffragists fought to control their own image in the long battle for the vote and political representation. Long before the pantsuit, American women were fighting to tell their story, their way. Lange's book is a story of historical courage whose ramifications still echo today."
— Former US senator Barbara Mikulski, longest-serving woman in congressional history
"In this richly researched and lavishly illustrated book, Lange argues that the American suffragists were successful in their battle for the vote in part because they used images to transform the public's notion of political womanhood. She takes special care to address how women of color developed activist visual campaigns. Linking power with visibility and weaving history with visual culture, Lange narrates a fascinating take on the history of the Nineteenth Amendment."
— Kate Clarke LeMay, National Portrait Gallery
"Picturing Political Power cogently delineates the intrinsic role of visual media in the struggle for women's rights. Lange shows how we cannot truly grasp the causes of and conflicts over women's suffrage without addressing its visual record. Sensitive to gender, class, and race, this groundbreaking book demonstrates the importance of rigorous engagement with visual evidence to uncover new insights about the past."
— Joshua Brown, Graduate Center, City University of New York
"...a digital collection of historical portraits and artifacts that tells a more inclusive story of the women's suffrage movement with a spotlight on the less familiar stories of Black women's activism throughout this period."
— Forbes
University of Chicago Press, 9780226703244, 320pp.
Publication Date: May 18, 2020
About the Author
Allison K. Lange is assistant professor of history at Wentworth Institute of Technology.