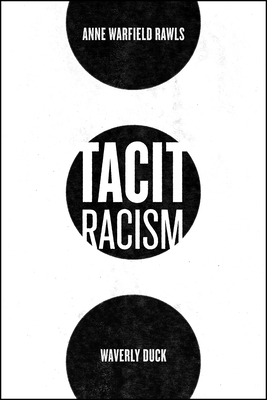 Tacit Racism
Paperback

* Individual store prices may vary.
Other Editions of This Title:
Hardcover (11/13/2020)
Description
We need to talk about racism before it destroys our democracy. And that conversation needs to start with an acknowledgement that racism is coded into even the most ordinary interactions.

Every time we interact with another human being, we unconsciously draw on a set of expectations to guide us through the encounter. What many of us in the United States—especially white people—do not recognize is that centuries of institutional racism have inescapably molded those expectations. This leads us to act with implicit biases that can shape everything from how we greet our neighbors to whether we take a second look at a resume. This is tacit racism, and it is one of the most pernicious threats to our nation.

In Tacit Racism, Anne Warfield Rawls and Waverly Duck illustrate the many ways in which racism is coded into the everyday social expectations of Americans, in what they call Interaction Orders of Race. They argue that these interactions can produce racial inequality, whether the people involved are aware of it or not, and that by overlooking tacit racism in favor of the fiction of a "color-blind" nation, we are harming not only our society's most disadvantaged—but endangering the society itself.

Ultimately, by exposing this legacy of racism in ordinary social interactions, Rawls and Duck hope to stop us from merely pretending we are a democratic society and show us how we can truly become one.
Praise For Tacit Racism…
"While many Americans continue to celebrate the collapse of the old Jim Crow order as a relic of the past, Tacit Racism reminds us of the myriad ways that racism continues to influence everyday life in US society and represents what the authors describe as a 'clear and present danger' to American democracy today."
— Joe William Trotter, Jr., author of Workers on Arrival: Black Labor in the Making of America

"Tacit Racism is a very, very important book. It will inform, challenge, disturb, and inspire. Anne Rawls and Waverly Duck bring to the project similar aptitudes for original research and theory joined by constructive differences—the one, Rawls, is a leading expert in applied ethnomethodology; the other, Duck, is a leader in the tradition of new ethnography. She is a bit more the philosopher; he the social theorist. Tacit Racism plows the terrain from Du Bois to Garfinkel and Goffman and sows it with the seeds of rich interview data and compelling field work."
— Charles Lemert, author of Dark Thoughts: Race and the Eclipse of Society

"Tacit Racism ends with a strong and urgent call for the activation of what authors Rawls and Duck refer to as a 'White double consciousness.' The authors contend that learning about the reality of a racialized interaction order could compel White Americans to develop an awareness, or a White double consciousness, of how White Americans are so deeply invested in creating inequitable social environments for Blacks and other communities of color. Overall, Tacit Racism is an interesting and thought-provoking read. As a text to introduce students to the array of interactional dynamics of white supremacy, and the ways that Whites from various backgrounds are complicit in these practices, it is a success."
— Symbolic Interaction

"Tacit Racism deepens our understanding of White supremacy by documenting its 'torrential' qualities, its pervasiveness and capacity for self-perpetuation in everyday life....The research [goes] far deeper than [commonplace understandings] of 'systemic racism.'"
— American Journal of Sociology
University of Chicago Press, 9780226703695, 248pp.
Publication Date: June 30, 2020
About the Author
Waverly Duck is assistant professor of sociology at the University of Pittsburgh.