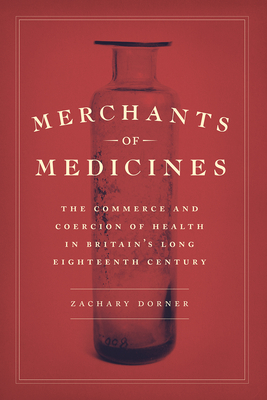 Merchants of Medicines
The Commerce and Coercion of Health in Britain's Long Eighteenth Century
Hardcover

* Individual store prices may vary.
Description
The period from the late seventeenth to the early nineteenth century—the so-called long eighteenth century of English history—was a time of profound global change, marked by the expansion of intercontinental empires, long-distance trade, and human enslavement. It was also the moment when medicines, previously produced locally and in small batches, became global products. As greater numbers of British subjects struggled to survive overseas, more medicines than ever were manufactured and exported to help them. Most historical accounts, however, obscure the medicine trade's dependence on slave labor, plantation agriculture, and colonial warfare.

In Merchants of Medicines, Zachary Dorner follows the earliest industrial pharmaceuticals from their manufacture in the United Kingdom, across trade routes, and to the edges of empire, telling a story of what medicines were, what they did, and what they meant. He brings to life business, medical, and government records to evoke a vibrant early modern world of London laboratories, Caribbean estates, South Asian factories, New England timber camps, and ships at sea. In these settings, medicines were produced, distributed, and consumed in new ways to help confront challenges of distance, labor, and authority in colonial territories. Merchants of Medicines offers a new history of economic and medical development across early America, Britain, and South Asia, revealing the unsettlingly close ties among medicine, finance, warfare, and slavery that changed people's expectations of their health and their bodies.
Praise For Merchants of Medicines: The Commerce and Coercion of Health in Britain's Long Eighteenth Century…
"Meticulously researched, methodologically innovative, and brilliantly argued, Merchants of Medicines is a masterful work that places the medicinal trade at the center of the emergence of modern ideas about empire, disease, healthcare, race, and corporeality in the eighteenth century. Dorner demonstrates how a previously overlooked profit-driven network of apothecaries, financiers, surgeons, planters, and drug traders was determinant in shaping the new political-economic models, based on exploitative labor and ideas about the universal nature of disease, that sustained the violent webs of the British empire and its slave societies. This book breaks new ground."
— Pablo Gómez, University of Wisconsin

"Merchants of Medicines is an ambitious, learned, and skillful reinterpretation of eighteenth- century British pharmaceuticals in their global contexts. Dorner elegantly recasts the story of medicine in the early modern Atlantic world as one fundamentally located in the world of commerce."
— Benjamin Siegel, Boston University

"An engaging work that intricately interweaves medical history, economic history, and imperial history, this book will greatly interest students of early modern Britain."
— Choice

"Merchants of Medicine tracks medicines manufactured in England, shipped to colonial outposts in North America, the Caribbean and India, and administered, by consent or coercion, to laboring populations. Dorner's study connects the histories of capitalism and empire to those of science and medicine, treating manufactured medicines as commodities for long-distance trade."
— Eighteenth-Century Studies
University of Chicago Press, 9780226706801, 280pp.
Publication Date: July 15, 2020
About the Author
Zachary Dorner is an Assistant Clinical Professor in the University Honors Program at the University of Maryland, College Park.