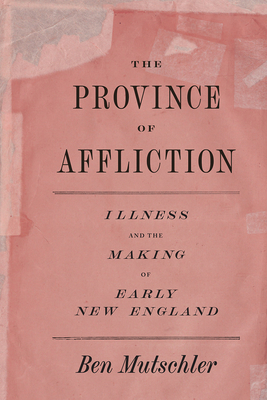 The Province of Affliction (Hardcover)
Illness and the Making of Early New England (American Beginnings, 1500-1900)
University of Chicago Press, 9780226714424, 368pp.
Publication Date: August 6, 2020
* Individual store prices may vary.
Description
In The Province of Affliction, Ben Mutschler explores the surprising roles that illness played in shaping the foundations of New England society and government from the late seventeenth century through the early nineteenth century. Considered healthier than people in many other regions of early America, and yet still riddled with disease, New Englanders grappled steadily with what could be expected of the sick and what allowances were made to them and their providers. Mutschler integrates the history of disease into the narrative of early American social and political development, illuminating the fragility of autonomy, individualism, and advancement . Each sickness in early New England created its own web of interdependent social relations that could both enable survival and set off a long bureaucratic struggle to determine responsibility for the misfortune. From families and households to townships, colonies, and states, illness both defined and strained the institutions of the day, bringing people together in the face of calamity, yet also driving them apart when the cost of persevering grew overwhelming. In the process, domestic turmoil circulated through the social and political world to permeate the very bedrock of early American civic life.
About the Author
Ben Mutschler is associate professor of history at Oregon State University.
Praise For The Province of Affliction: Illness and the Making of Early New England (American Beginnings, 1500-1900)…
"Families struggling to care for loved ones. Governments determined to cut back on medical costs. Populations quarantined to stop the spread of disease. These scenes from colonial New England are as current as today's news. TheProvince of Affliction reveals a world surprisingly familiar, yet profoundly different from our own. In depicting this world, Mutschler is original, ambitious, masterful in his command of diverse sources, and a lively and fluent writer. He also forecasts the ideological origin of our current plight: the ethos of individualism that emerged in the wake of the Revolution, which built a new world of freedom and risk without a social safety net."
— Robert A. Gross, University of Connecticut
"Timely for its historical reflections on the challenges posed by disease, The Province of Affliction documents the resilient responses of early New Englanders to the regular occurrences of serious illness. Mutschler provides a poignant and pointed account of a world in which colonial settlers regularly stretched their capacities to tend to the sick and dying."
— Kathleen Brown, University of Pennsylvania
"The Province of Affliction provides a new lens into the experiences of New England colonists that broadens and deepens past scholarship. While New Englanders may have lived a long time, boy, did they suffer! Mutschler's fascinating book is an eye-opening examination and raises a host of questions about how we measure and evaluate medical progress."
— David K. Rosner, Columbia University