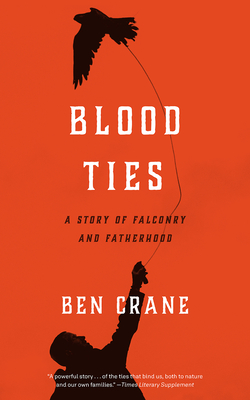 Blood Ties
A Story of Falconry and Fatherhood
Paperback

* Individual store prices may vary.
Description
Raised in rural England before the rise of the internet, Ben Crane grew up in the company of wild things, with hawks and other birds of prey alive in his mind—and woods and fields—as symbols of a kind of self-possessed, solitary power. He spent time with them, knew them, and loved them. But as Crane grew into adulthood, situations that may seem to many of us natural, or even comforting, were challenging: he found it difficult to be around other people and to read social cues, sometimes retreating in fear or lashing out in misunderstanding. Eventually, he was diagnosed as being on the autism spectrum. When Crane became a father, these challenges became unbearable, and he fled to isolation. Hawks brought him back.
 
In this artful and moving memoir, we follow Crane on his remarkable journey of flight and return. Traveling from the United Kingdom to Pakistan, we learn first about the history and practice of falconry, a beautiful and brutal partnership between humans and birds that has persisted for thousands of years. And as Crane's personal story unfolds, we come to understand how he found solace and insight through his relationships with these animals. "I saw that my feelings toward nature, and birds of prey in particular, ran in parallel with my feelings for my son," Crane writes. "I worked out that they were, in fact, two sides of the same coin—the deep love of one could, with gentle observation, inform and unlock the deep love for the other. . . . Perhaps this then is the central theme of my story."

Many of us rely upon animal companions to provide a sense of joy, compassion, and empathy. But as Blood Ties teaches us, our relationships with the creatures among us can also transform us, illuminating what it means both to be human and to be part of the greater wild—what it means to be alive.
Praise For Blood Ties: A Story of Falconry and Fatherhood…
"Memorably sharp. . . . A powerful story . . . of the ties that bind us, both to nature and our own families."
— Times Literary Supplement

"I was moved to tears by Crane's beautiful memoir."
— Good Housekeeping (UK)

"A profoundly moving tale."
— Shropshire Star (UK)

"Crane . . . writes wonderfully about the natural world; he has a keen and sharp eye, alert to fine detail and beauty that most of us might miss."
— Church Times (UK)
University of Chicago Press, 9780226714738, 320pp.
Publication Date: March 30, 2020
About the Author
Ben Crane is a writer, artist, and teacher who has been involved in a wide range of country pursuits from an early age. His fascination with falconry has taken him all over the world, and he has traveled across Europe, America, and Pakistan flying birds of prey and writing about trapping, training, and hawking with sparrowhawks, goshawks, falcons, and eagles. He is the author of Sparrowhawks: A Falconer's Guide.
or
Not Currently Available for Direct Purchase