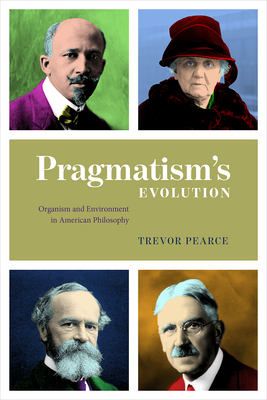 Pragmatism's Evolution
Organism and Environment in American Philosophy
Paperback

* Individual store prices may vary.
Other Editions of This Title:
Hardcover (11/23/2020)
Description
In Pragmatism's Evolution, Trevor Pearce demonstrates that the philosophical tradition of pragmatism owes an enormous debt to specific biological debates in the late 1800s, especially those concerning the role of the environment in development and evolution. Many are familiar with John Dewey's 1909 assertion that evolutionary ideas overturned two thousand years of philosophy—but what exactly happened in the fifty years prior to Dewey's claim? What form did evolutionary ideas take? When and how were they received by American philosophers?

Although the various thinkers associated with pragmatism—from Charles Sanders Peirce to Jane Addams and beyond—were towering figures in American intellectual life, few realize the full extent of their engagement with the life sciences. In his analysis, Pearce focuses on a series of debates in biology from 1860 to 1910—from the instincts of honeybees to the inheritance of acquired characteristics—in which the pragmatists were active participants. If we want to understand the pragmatists and their influence, Pearce argues, we need to understand the relationship between pragmatism and biology.
Praise For Pragmatism's Evolution: Organism and Environment in American Philosophy…
"This book is an important contribution to the history of philosophical discussion of biology. I do not know of any other book that covers the material so thoroughly. It will be invaluable to anyone interested in the history of pragmatism and the influence of biology and evolution on pragmatic thinkers."
— Richard J. Bernstein, The New School for Social Research
"Pearce's book adds a welcome new dimension to discussion of the history of pragmatism. His treatment of the movement's early years includes an expanded range of characters, some of them fascinating but neglected, others who are recognized as leading figures but not usually linked to pragmatist philosophy. Pearce also shows the influence on pragmatism of an unruly, speculative, and rich collection of ideas about biological evolution and historical change. The book is meticulously researched, very well written, and full of surprises."
— Peter Godfrey-Smith, author of Theory and Reality: An Introduction to the Philosophy of Science
University of Chicago Press, 9780226719917, 384pp.
Publication Date: September 28, 2020
About the Author
Trevor Pearce is associate professor of philosophy at the University of North Carolina at Charlotte. He is the coeditor of Entangled Life: Organism and Environment in the Biological and Social Sciences and a contributor to The Cambridge Handbook of Evolutionary Ethics and The Timeliness of George Herbert Mead. His articles have been published in HOPOS, the Journal of the History of Ideas, the Journal of the History of Philosophy, and many other publications.