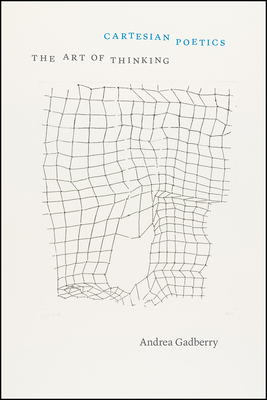 Cartesian Poetics
The Art of Thinking (Thinking Literature)
Paperback

* Individual store prices may vary.
Other Editions of This Title:
Hardcover (10/20/2020)
Description
What is thinking? What does it feel like? What is it good for? Andrea Gadberry looks for answers to these questions in the philosophy of René Descartes and finds them in the philosopher's implicit poetics. Gadberry argues that Descartes's thought was crucially enabled by poetry and shows how markers of poetic genres from love lyric and elegy to the puzzling forms of the riddle and the anagram betray an impassioned negotiation with the difficulties of thought and its limits. Where others have seen Cartesian philosophy as a triumph of reason, Gadberry reveals that the philosopher accused of having "slashed poetry's throat" instead enlisted poetic form to contain thought's frustrations.

Gadberry's approach to seventeenth-century writings poses questions urgent for the twenty-first. Bringing literature and philosophy into rich dialogue, Gadberry centers close reading as a method uniquely equipped to manage skepticism, tolerate critical ambivalence, and detect feeling in philosophy. Helping us read classic moments of philosophical argumentation in a new light, this elegant study also expands outward to redefine thinking in light of its poetic formations.
Praise For Cartesian Poetics: The Art of Thinking (Thinking Literature)…
"An intricate, gripping new book. . . There is a strangeness—an uncanniness, even—to the Descartes emerging from Gadberry's treatment. It is a reading that is at once convincing and utterly unexpected: Descartes as upside-down, inside-out love poet. . . Cartesian Poetics is a coup all its own. It ought to change the way we read Descartes."
— Ross Wilson

"Gadberry offers a dazzling reinterpretation of Descartes's relation to poetry. Written in beautiful and witty prose, this book argues that Cartesian philosophy is underpinned, shaped, and, in important ways, determined by the pressures and forces of literary genre: poetry is a vital form of thinking that is in no way confined to literary texts.. . . . [An] excellent and evocative book."

— Timothy M. Harrison

"Gadberry's engaging book defends Descartes against the charge of being the evil genius of modernism. . . . What makes reading Gadberry's book a rewarding experience is not, as one might expect, a literary deconstruction of Descartes's text. . . It is rather the way in which, by bringing Descartes's carefully coded feelings to light, it humanizes both the philosopher and the twists and turns of thinking as such."
— Christopher Braider

"Cartesian Poetics is an original, hard-nosed, gorgeously written, and compelling book. For a book on the aesthetics of thinking, it is suitably beautiful and intelligent. . . . Gadberry's artful reconstruction and probing of Descartes's sentences reveal the poetry flowing beneath and within his philosophy."
— Jonathan Kramnick, Yale University

"Cartesian Poetics brilliantly integrates historical sensitivity and speculative boldness. Tracing a 'literary life of concepts' through the riddle, the love lyric, the elegy, and the anagram, Gadberry gives us a new history of Descartes's philosophical coming of age. Her nuanced close readings, which make dazzling use of wit as an engine of literary-critical investigation, awaken us to a conception of poetic form that lives in and between thoughts—that makes 'thinking,' in the largest sense, possible."
— Gerard Passannante, University of Maryland, College Park
University of Chicago Press, 9780226723020, 224pp.
Publication Date: October 20, 2020
About the Author
Andrea Gadberry is assistant professor at New York University at the Gallatin School of Individualized Study and in the Department of Comparative Literature.