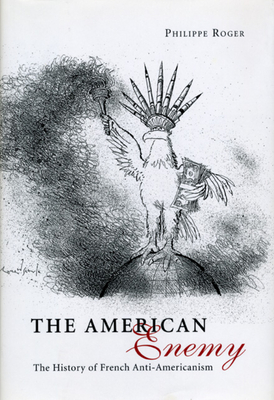 The American Enemy (Hardcover)
The History of French Anti-Americanism
University of Chicago Press, 9780226723686, 536pp.
Publication Date: May 12, 2005
Other Editions of This Title:
Paperback (11/1/2006)
* Individual store prices may vary.
Description
Georges-Louis Buffon, an eighteenth-century French scientist, was the first to promote the widespread idea that nature in the New World was deficient; in America, which he had never visited, dogs don't bark, birds don't sing, and—by extension—humans are weaker, less intelligent, and less potent. Thomas Jefferson, infuriated by these claims, brought a seven-foot-tall carcass of a moose from America to the entry hall of his Parisian hotel, but the five-foot-tall Buffon remained unimpressed and refused to change his views on America's inferiority.
Buffon, as Philippe Roger demonstrates here, was just one of the first in a long line of Frenchmen who have built a history of anti-Americanism in that country, a progressive history that is alternately ludicrous and trenchant.
The American Enemy
is Roger's bestselling and widely acclaimed history of French anti-Americanism, presented here in English translation for the first time.
With elegance and good humor, Roger goes back 200 years to unearth the deep roots of this anti-Americanism and trace its changing nature, from the belittling, as Buffon did, of the "savage American" to France's resigned dependency on America for goods and commerce and finally to the fear of America's global domination in light of France's thwarted imperial ambitions. Roger sees French anti-Americanism as barely acquainted with actual fact; rather, anti-Americanism is a cultural pillar for the French, America an idea that the country and its culture have long defined themselves against.
Sharon Bowman's fine translation of this magisterial work brings French anti-Americanism into the broad light of day, offering fascinating reading for Americans who care about our image abroad and how it came about.
"Mr. Roger almost single-handedly creates a new field of study, tracing the nuances and imagery of anti-Americanism in France over 250 years. He shows that far from being a specific reaction to recent American policies, it has been knit into the very substance of French intellectual and cultural life. . . . His book stuns with its accumulated detail and analysis."—Edward Rothstein, New York Times
                                                                                            
"A brilliant and exhaustive guide to the history of French Ameriphobia."—Simon Schama, New Yorker


About the Author
Philippe Roger is professor at the École des Hautes Études en Sciences Sociales in Paris, editor-in-chief of Critique, the author of numerous books on French history and culture, and a member of the Centre National de la Recherche Scientifique. Sharon Bowman was awarded the Prix Amic de Soutien à la Création Littéraire by the Académie Française in 2002.
Praise For The American Enemy: The History of French Anti-Americanism…
"The American Enemy makes lively reading, due in no small part to the author's energetic, ironic commentary. Roger—a professor at the Sorbonne—has assembled a gallery of all the negative commonplaces, stereotypes and cliches about the United States: bad climate, savage natives, Indian-killers, slavedrivers, robber barons, capitalist fat cats, unlivable cities, soulless scientists, etc. The caricatures are occasionally drawn by some of France's finest pens, and they get our attention. As this culture of complaint builds and ramifies, we witness the birth and development of an intellectual reflex."—Stephen Sartarelli, The Nation

— Stephen Sartarelli
"Philippe Roger, the author of works ranging from studies of the Enlightenment to Roland Barthes, makes brilliant mischief from the very first words of his "genealogy" of French anti-Americanism. . . . This enlisting of the nexus of love and hate, of slavery to opposing passions, is an exhilarating way of launching a study of attitudes, of liberating the atavism of animosities from the contingencies of events and circumstances. Roger argues that the roots of French anti-Americanism lie in the doubts of Enlightenment science that the New World was a viable one at all."--Bill Grantham, World Policy Journal

— Bill Grantham
"A brilliant and exhaustive guide to the history of French Ameriphobia."—Simon Schama, New Yorker

— Simon Schama
"Roger concentrates on one country--France--and takes the long, historical view. French anti-Americanism, he shows in The American Enemy, goes back to the eighteenth century. . . . Anti-Americanism goes back a long way, and Philippe Roger does an impressive job of unravelling its various strands and tracing their ancestry."--Henri Astier, Times Literary Supplement

— Henri Astier
"Philippe Roger has written a superb history of French anti-Americanism, elegant, learned, witty. This enjoyable exercise, in the very best traditions of French scholarship, richly deserves to be published in English translation, unabridged. The book's argument is far too subtle and intricate to summarize briefly, but the word "genealogy" in the title should be taken seriously. . . . In nearly six hundred pages of close textual exegesis, Roger demonstrates not only that the core of French anti-Americanism is very old indeed, but also that it was always fanciful, only loosely attached to American reality."—Tony Judt, New York Review of Books

— Tony Judt
"Mr. Roger almost single-handedly creates a new field of study, tracing the nuances and imagery of anti-Americanism in France over 250 years. He shows that far from being a specific reaction to recent American policies, it has been knit into the very substance of French intellectual and cultural life. . . . His book stuns with its accumulated detail and analysis."--Edward Rothstein, New York Times

— Edward Rothstein
"The great novelty of Philippe Roger's meticulously researched book, first published in 2002 and now translated into English, is how much further back French anti-Americanism reaches. . . . A bible for students of anti-Americanism."--Economist

— The Economist
"Here is a tasty statistic: when the US went into Iraq a survey showed that America's popularity plunged everywhere--except in France. The French opposed the invasion vehemently, but the country was already so saturated in anti-Americanism that the index scarcely flickered. Which makes Philippe Roger a brave and lonely man. His book is that seemingly impossible thing: an attack on French Americophobia written by a Frenchman. For, as he demonstrates in this scholarly yet highly entertaining work, the French allergy to all things American is a national psychosis which today tells us more about the condition of France than it does about the United States. . . . For all its amusing vignettes, Philippe Roger's message is sober, and a foreword asks an excellent question: how far is the demonising of America, not just in France but the world over, helping to convert a war of words into a more fearsome conflict?"--George Walden, Sunday Telegraph

— George Walden
"The dangers of clumsy translations and cultural misunderstandings are central to the arguments Philippe Roger makes in his timely and wise book. Roger sets out to show that French anti-Americanism has been less a product of genuine antagonism than the result of a series of misunderstandings. To Roger's dismay, these misunderstandings—sometimes wilful, but often based on genuine confusion—have come to play a central role in French identity. . . . The American Enemy is a shrewd and deft analysis of French cultural history which unmasks a great many absurdities, past and present."
— Andrew Hussey
"In this fascinating history, noted French historian and cultural critic Roger wittily documents French anti-Americanism from the Enlightenment through McDonald's invasion of French cuisine. Part of Roger's analytic technique is uncovering obscure but intriguing historical information—e.g., early anti-American sentiments were based on the supposedly scientific argument that the Americas were filled with poisonous substances and sickly animals. While such tidbits are entertaining, the book quickly demonstrates how, during the 20th century, France's anti-American attitudes deepened as the U.S. become a world power, overshadowing the traditional European empires. This shift helped create a cultural container for all anti-American feelings including mistrust of Ford's assembly line, moral abhorrence of a growing world economy controlled by the U.S. and distaste for American customs and personalities. . . . An important addition to international cultural and political history."--Publishers Weekly

— Publishers Weekly
"France has often had reason to dislike America  as in the case of Iraq, or in the matter of the economic conditions of the Treaty of Versailles. However, it is the grim achievement of Philippe Roger's book to demonstrate that France's lifelong hatred of America does not depend on intermittent justification, but is a self-perpetuating state of mind that meets a vital need in the French psyche. The fact that Roger wrote before the Iraq invasion therefore does not bother his thesis. I began this book believing that the greatness of French civilization was perhaps connected to its self-regard; that the patronising ignorance of the French towards other cultures is a small price to pay for the joy their own civilization has brought to the world. Now I am not so sure. As Professor Roger's book went on, building its pathology of racism brick by brick, I felt that I was reading not so much the story of a national failing as a universal fable about man's capacity for self-delusion and the human urge to self-validation through hating others. Francophiles, be warned: this is a deeply dispiriting book."--Sebastian Faulks, Sunday Times 
— Sebastian Faulks
CHOICE Outstanding Academic Title for 2006
— CHOICE
"Monumental. . . . A vast but highly readable presentation of every form of French criticism of America. . . . Roger's survey is grand in scope and genial in language."
— D.W. Ellwood
"Nobody has done as much as Phillipe Roger to lay out these phases of the French animus, or to show how vast has been the literature rehearsing these themes--to demonstrate, in short, that in France such a thing as anti-Americanism does exist and has been expressed in extravagant detail over the centuries."--Paul Berman, The New Republic
— Paul Berman
"[The] book has many strengths but collapsing the complex web that is French anti-Americanism into a workable theoretical framework may be his greatest contribution. His introduction is probably the smartest and most responsible ten pages ever written on the subject of French anti-Americanism. Anyone at all interested in the subject, or in any aspect of French history, should read it. . . . [His work] is highly readable and accessible, without sacrificing scholarly integrity."
— Seth Armus
"You think you know all about French anti-Americanism? Think again. Better still, read Philippe Roger's elegant The American Enemy."
— Eugen Weber
"A feast of a book, cooked a point and served with considerable panache. . . . Roger's sardonic voice is irresistible."
— Alex Danchev
"A brilliant polemic, whose wit and historical digging capture both the persistent and platitudinous qualities embedded in French writing on America. Disturbing, but also intensely amusing, Roger will force his audience to think not only about France, but about the United States, and the legacies that come with massive power."
— Michael Miller
"A short review can hardly do justice to the erudition, irony, and wit on display in Roger's 'genealogy' of anti-Americanism. The chronological scope alone is remarkable. . . . One hopes that American readers will see this book not as a means for confirming their own prejudices about France but as a wise guide for thinking about how xenophobias of all kinds travel from one generation to the next."
— Herrick Chapman
or
Not Currently Available for Direct Purchase