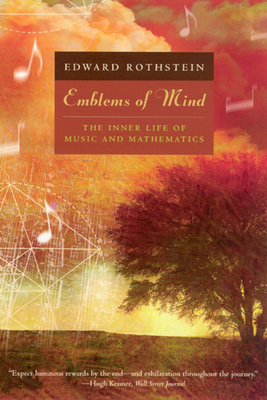 Emblems of Mind
The Inner Life of Music and Mathematics
Paperback

* Individual store prices may vary.
Other Editions of This Title:
Paperback (8/1/1996)
Description
One is a science, the other an art; one useful, the other seemingly decorative, but mathematics and music share common origins in cult and mystery and have been linked throughout history. Emblems of Mind is Edward Rothstein's classic exploration of their profound similarities, a journey into their "inner life." Along the way, Rothstein explains how mathematics makes sense of space, how music tells a story, how theories are constructed, how melody is shaped. He invokes the poetry of Wordsworth, the anthropology of Lévi-Strauss, the imagery of Plato, and the philosophy of Kant. Math and music, Rothstein shows, apply comparable methods as they create their abstractions, display similar concerns with ratio and proportion, and depend on metaphors and analogies to create their meanings. Ultimately, Rothstein argues, they reveal the ways in which we come to understand the world. They are images of the mind at work and play; indeed, they are emblems of Mind itself. 

Jacques Barzun called this book "splendid." Martin Gardner said it was "beautifully written, marvelous and entertaining." It will provoke all serious readers to think in new ways about the grand patterns in art and life. 

"Lovely, wistful. . . . Rothstein is a wonderful guide to the architecture of musical space, its tensions and relations, its resonances and proportions. . . . His account of what is going on in the music is unfailingly felicitous."—New Yorker

"Provocative and exciting. . . . Rothstein writes this book as a foreign correspondent, sending dispatches from a remote and mysterious locale as a guide for the intellectually adventurous. The remarkable fact about his work is not that it is profound, as much of the writing is, but that it is so accessible."—Christian Science Monitor


University of Chicago Press, 9780226729541, 284pp.
Publication Date: May 1, 2006
About the Author
Edward Rothstein is cultural critic-at-large for the New York Times. He also has served as chief music critic for the Times and as music critic for the New Republic. The recipient of a Guggenheim fellowship, Rothstein has written for Commentary, Vanity Fair, and the New York Review of Books.