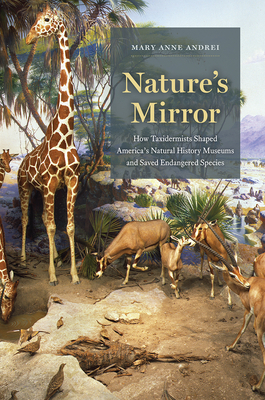 Nature's Mirror
How Taxidermists Shaped America's Natural History Museums and Saved Endangered Species
Hardcover

* Individual store prices may vary.
Description
It may be surprising to us now, but the taxidermists who filled the museums, zoos, and aquaria of the twentieth century were also among the first to become aware of the devastating effects of careless human interaction with the natural world.
 
Witnessing firsthand the decimation caused by hide hunters, commercial feather collectors, whalers, big game hunters, and poachers, these museum taxidermists recognized the existential threat to critically endangered species and the urgent need to protect them. The compelling exhibits they created—as well as the scientific field work, popular writing, and lobbying they undertook—established a vital leadership role in the early conservation movement for American museums that persists to this day.
 
Through their individual research expeditions and collective efforts to arouse demand for environmental protections, this remarkable cohort—including William T. Hornaday, Carl E. Akeley, and several lesser-known colleagues—created our popular understanding of the animal world and its fragile habitats. For generations of museum visitors, they turned the glass of an exhibition case into a window on nature—and a mirror in which to reflect on our responsibility for its conservation.

Praise For Nature's Mirror: How Taxidermists Shaped America's Natural History Museums and Saved Endangered Species…
"Nature's Mirror is a fascinating account of the development of taxidermy in late nineteenth-century North America. . . . a well-researched, informative, and highly readable book that provides valuable insight into the evolution of America's natural history museums."
— Isis

"An extremely well-researched and written history. . . . This is an excellent book and those interested in the science and art of taxidermy will enjoy reading it. . . . Nature's Mirror is a finely crafted, well-documented doorway into the world of the early larger-than-life characters, the often healthy competition between museums and zoos to develop their exhibits, and conservation battles of the early 20th century."
— Journal of Mammalogy

"A delightfully engaging and captivating read. . . . Nature's Mirror is a well written and extensively researched work which offers a welcome contribution to the history of taxidermy and museum display in America."
— Archives of Natural History

"Most welcome and much needed. . . . Andrei's book presents the complex and admittedly sometimes contradictory personalities of, and motivations behind, the people who brought to life some of the most well known natural history museum displays ever seen in the United States. In it she also examines how the creation of these displays brought to light the rapidly declining populations of some of the animals presented in them, as well as their visual power to influence public interest in their conservation."
— Well-read Naturalist

"Readers interested in the history of museums and how the wealthy supported science in the late 1800s and early 1900s will enjoy this book. . . . Recommended. All readers."
— Choice

"Nature's Mirror has rearranged the furniture in my head. Its author has rescued a group of turn-of-the-twentieth-century taxidermists/naturalists who in fact were crucial players in stopping the wholesale extinction of some of America's most cherished animals. Read this book and you're never going to stand before a natural history exhibit in one of America's great museums and think of it in the same way again."
— Dan Flores, New York Times bestselling author of American Serengeti and Coyote America

"Andrei has written an important book that fills the gape in our understanding of the modern conservation movement. Nature's Mirror celebrates the unsung heroes who used the tools of taxidermy and museum design to ensure that humans retained their connection to wildlife as they transitioned from people of the land to urban dwellers. At the turn of the last century, before efficient field photography, they created artistic renderings of animals that few would have an opportunity to see, and they embedded, in our minds, accurate images of the creatures with whom we share this world. In the process, they saved many species and showed us that extinction is not inevitable."
— Dan O'Brien, author of Great Plains Bison

"Deeply researched and beautifully written, Nature's Mirror is a fascinating account of the development of an American school of taxidermy and the transformation that movement wrought on natural history museums at the turn of the twentieth century. Andrei charts how the men of Ward's Natural Science Establishment revolutionized animal displays and in the process redefined the public work of natural history museums, awakened Americans to humanity's impact on the natural world, and pioneered wildlife conservation practices that saved dozens of species from extinction."
— Heather Ewing, author of The Lost World of James Smithson: Science, Revolution, and the Birth of the Smithsonian
University of Chicago Press, 9780226730318, 264pp.
Publication Date: November 20, 2020
About the Author
Mary Anne Andrei is a three-time Heartland Emmy Award winner and senior producer for emerging media at NET Nebraska, the state's PBS and NPR station. Her short film Return of the American Bison received a 2019 Heartland Emmy and her PBS Digital 360° video series Watershed won a 2020 Radio Television Digital News Association Regional Murrow Award and a 2020 Midwest Broadcast Journalists Association Eric Sevareid Award. Her photos have appeared in the Guardian, Harper's Magazine, Mother Jones, and New Republic.