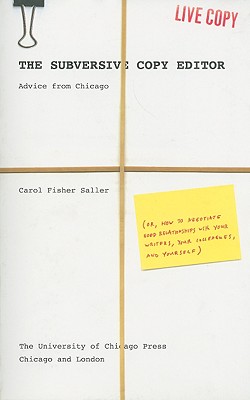 The Subversive Copy Editor (Paperback)
Advice from Chicago (Or, How to Negotiate Good Relationships with Your Writers, Your Colleagues, and Yourself)
University of Chicago Press, 9780226734255, 134pp.
Publication Date: March 16, 2009
* Individual store prices may vary.
Description
Each year writers and editors submit over three thousand grammar and style questions to the Q&A page at The Chicago Manual of Style Online. Some are arcane, some simply hilarious--and one editor, Carol Fisher Saller, reads every single one of them. All too often she notes a classic author-editor standoff, wherein both parties refuse to compromise on the "rights" and "wrongs" of prose styling: "This author is giving me a fit." "I wish that I could just DEMAND the use of the serial comma at all times." "My author wants his preface to come at the end of the book. This just seems ridiculous to me. I mean, it's not a post-face."
In The Subversive Copy Editor, Saller casts aside this adversarial view and suggests new strategies for keeping the peace. Emphasizing habits of carefulness, transparency, and flexibility, she shows copy editors how to build an environment of trust and cooperation. One chapter takes on the difficult author; another speaks to writers themselves. Throughout, the focus is on serving the reader, even if it means breaking "rules" along the way. Saller's own foibles and misadventures provide ample material: "I mess up all the time," she confesses. "It's how I know things."
Writers, Saller acknowledges, are only half the challenge, as copy editors can also make trouble for themselves. (Does any other book have an index entry that says "terrorists. See copy editors"?) The book includes helpful sections on e-mail etiquette, work-flow management, prioritizing, and organizing computer files. One chapter even addresses the special concerns of freelance editors.
Saller's emphasis on negotiation and flexibility will surprise many copy editors who have absorbed, along with the dos and don'ts of their stylebooks, an attitude that their way is the right way. In encouraging copy editors to banish their ignorance and disorganization, insecurities and compulsions, the Chicago Q&A presents itself as a kind of alter ego to the comparatively staid Manual of Style. In The Subversive Copy Editor, Saller continues her mission with audacity and good humor.
About the Author
Carol Fisher Saller is a senior manuscript editor at the University of Chicago Press and the editor of TheChicago Manual of Style Online's Q&A.
Praise For The Subversive Copy Editor: Advice from Chicago (Or, How to Negotiate Good Relationships with Your Writers, Your Colleagues, and Yourself)…
"An insider's book to cure writers . . . while shoring up editors. . . . Good advice."


-William Safire

"One of the great virtues of this book (which has been very well copy-edited) is the many helpful examples of exchanges and situations Saller uses to illustrate her points. Many are real—and some, incidentally, very funny."


-TLS

"Carol Fisher Saller . . . knows editing is as much about people as paragraphs, and that mastering diplomacy is as important as mastering stylebooks."

"A little insider baseball . . . What may be the best copy editor's companion since the CMS, the AP Style Guide and that dog-eared xerox of copy editing marks you keep tacked up on the cubicle wall. . . . With entire chapters devoted to the freelancer and the writer, and an extensive guide for further reading, this is an ideal complement to any style guide: practical, relentlessly supportive and full of ed-head laughs"



"In this slim volume, Saller not only presents the sometimes muddy art of copyediting in a clear, matter-of-fact way; she has a lot of fun doing it. . . . The Subversive Copyeditor is a wonderful read for anyone involved in copyediting and an especially good 'welcome' gift for the many enthusiastic—and regrettably underpaid—interns now entering the publishing field."



"Carol Fisher Saller has hit this one out of the ballpark. Ms. Saller is knowledgeable and funny, her advice practical and relevant, and the book she has written is above all readable. So readable, in fact, that when I received a set of uncorrected page proofs for review, I could not put them down. . . . It was exhilarating, as if I'd been to a revival meeting where Ms. Saller was the preacher and I was the amen corner."


-Wendalyn Nichols
or
Not Currently Available for Direct Purchase