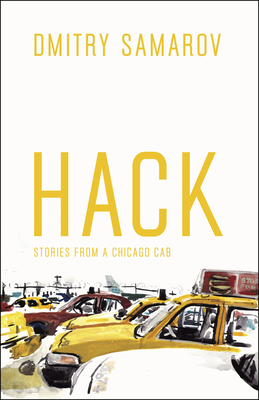 Hack: Stories from a Chicago Cab (Hardcover)
Stories from a Chicago Cab
University of Chicago Press, 9780226734736, 124pp.
Publication Date: October 1, 2011
* Individual store prices may vary.
or
Not Currently Available for Direct Purchase
Description
Cabdrivers and their yellow taxis are as much a part of the cityscape as the high-rise buildings and the subway. We hail them without thought after a wearying day at the office or an exuberant night on the town. And, undoubtedly, taxi drivers have stories to tell--of farcical local politics, of colorful passengers, of changing neighborhoods and clandestine shortcuts. No one knows a city's streets--and thus its heart--better than its cabdrivers. And from behind the wheel of his taxi, Dmitry Samarov has seen more of Chicago than most Chicagoans will hope to experience in a lifetime.
An artist and painter trained at the School of the Art Institute of Chicago, Samarov began driving a cab in 1993 to make ends meet, and he's been working as a taxi driver ever since. In Hack: Stories from a Chicago Cab, he recounts tales that will delight, surprise, and sometimes shock the most seasoned urbanite. We follow Samarov through the rhythms of a typical week, as he waits hours at the garage to pick up a shift, ferries comically drunken passengers between bars, delivers prostitutes to their johns, and inadvertently observes drug deals. There are long waits with other cabbies at O'Hare, vivid portraits of street corners and their regular denizens, amorous Cubs fans celebrating after a game at Wrigley Field, and customers who are pleasantly surprised that Samarov is white--and tell him so. Throughout, Samarov's own drawings--of his fares, of the taxi garage, and of a variety of Chicago street scenes--accompany his stories. In the grand tradition of Nelson Algren, Saul Bellow, Mike Royko, and Studs Terkel, Dmitry Samarov has rendered an entertaining, poignant, and unforgettable vision of Chicago and its people.
About the Author
Dmitry Samarov earned his BFA in painting and printmaking at the School of the Art Institute of Chicago in 1993 and began driving a cab that same year. His work has been shown at the Chicago Tourism Center, the Merchandise Mart, the Bowery Gallery, and Brandeis University. Samarov is the creator of the blog Hack, stories from which have been featured in the Chicago Reader and elsewhere.
Praise For Hack: Stories from a Chicago Cab…
"Samarov captures the most shocking and, sometimes, quietly poignant tales. . . . When chatty barflies, clandestine drug buyers, inebriated sports fans, and prostitutes mentally preparing for johns pour out to their cab driver on a nightly basis, the truth is stranger than fiction­."—TimeOut Chicago



"Fact: I first rode in Dmitry's cab when he was driving in Boston in 1993. He owned the first cellular phone that I ever saw, and he has been broadcasting back from the strange frontier of hack life ever since. He's a good driver, but more than that, he's as skilled a navigator of the forgotten American city as you'll find, and his writing is funny, grim, humane, and welcome."—John Hodgman, author of More Information than You Require


-John Hodgman

"Nobody dreams of being a cabdriver but many of us get sidetracked. Dmitry Samarov, an art school grad, is one such lost soul. This book, which combines his passion and his detour, is an evocative and accurate look at the life of a big city hack. Drop a few extra bills over the front seat. Mr. Samarov rates a sizable tip."—Jack Clark, author of Nobody's Angel

-Jack Clark

"Hack is one man's witness to a contrary, luminous, and difficult city. Samarov's city is also Algren's city, Terkel's city, Royko's city. . . . Except Dmitry Samarov gets closer, moving while the city sleeps, and having an actual dialogue with its denizens; we take his journey, through the cruelties and comedies. Think of Zola—if he was driving a cab and had Samarov''s mordant gallows humor and humanity as his guide. Dmitry Samarov testifies to our messy, contradictory, and vital city."—Tony Fitzpatrick

-Tony Fitzpatrick

"[Samarov''s] book, organized by the days of the week, is thin and enveloping, full of the kind of insights only a veteran cab driver would have. . . . The book is also so attuned to the nuances of cab life, a thought repeatedly springs to mind as you read it: Your cab driver is aware of you. More than you realize." Normal 0 false false false MicrosoftInternetExplorer4 /* Style Definitions */ table.MsoNormalTable {mso-style-name:"Table Normal"; mso-tstyle-rowband-size:0; mso-tstyle-colband-size:0; mso-style-noshow:yes; mso-style-parent:""; mso-padding-alt:0in 5.4pt 0in 5.4pt; mso-para-margin:0in; mso-para-margin-bottom:.0001pt; mso-pagination:widow-orphan; font-size:10.0pt; font-family:"Times New Roman"; mso-ansi-language:#0400; mso-fareast-language:#0400; mso-bidi-language:#0400;} —Chicago Tribune



"Samarov drives late afternoon and into the night, the best time to cull material to create his vibrant, detailed stories that would make Nelson Algren proud. He has that very Chicago knack for succinctly capturing the city's neighborhoods and the characters that inhabit them."—Chicago Sun-Times
 



"With Dmitry Samarov's Hack: Stories from a Chicago Cab, the University of Chicago Press has produced a work about the Windy City that could not be grittier or more up-to-the-minute. . . . These vignettes constitute a work of ground-level urban sociology, showing parts of Chicago life that few novelists or academics could access."—Barnes and Noble Review
Coverage from NPR
Advertisement