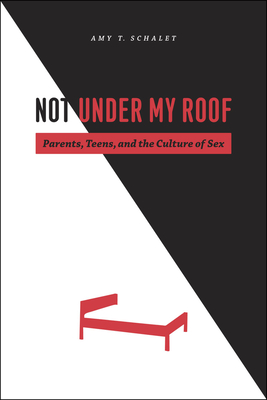 Not Under My Roof
Parents, Teens, and the Culture of Sex
Paperback

* Individual store prices may vary.
Other Editions of This Title:
Hardcover (11/1/2011)
Praise For Not Under My Roof: Parents, Teens, and the Culture of Sex…
"With grace and style, Amy Schalet presents a forceful and convincing argument about the divergent cultural approaches to sexuality, socialization of adolescents, and conceptions of citizenship in the United States and the Netherlands, probing deep-seated value differences that play out in the management of sex. Nuanced, well documented, and remarkably persuasive, Not Under My Roof is an exemplary study."
— Frank Furstenberg, University of Pennsylvania
"In
Not Under My Roof
, Amy Schalet mines the radically different American and Dutch understandings of adolescent sexuality—their different takes on lust, love, gender, hormones, control, and selfhood—and comes away with scholarly gold. Carefully researched, wicked smart, and filled with the voices and stories of parents and teenagers, Schalet's is one of the best books on sexuality and culture in years."
— Joshua Gamson, University of San Francisco
"Schalet's insightful analyses—grounded in history, sociology, and adolescent development—provide a roadmap for normalizing sexuality and guiding social policy. Taking adolescent sexuality out of the darkness of the back seat and into the light under the family roof has the power to transform adolescent and adult sexuality and family relations."
— John Santelli, MD, Columbia University
"Combining intimate personal stories with brilliant sociological insight, Schalet challenges our assumptions about teenage sex and the inevitability of conflict between teenagers and parents. American adolescents rebel, and their parents impose harsh discipline because they prize individual autonomy and fear the social disorder it implies. Dutch parents expect their children to be reasonable because they see self-regulation as a natural attribute of a cohesive society. This far-reaching and enthralling cultural analysis puts flesh on the bones of theories of modern individualism, and, perhaps more importantly, it offers American parents a new, hopeful—if at times unsettling—sense of how we might better love, respect, and care for our children."
— Ann Swidler, University of California, Berkeley
"I just finished reading Amy Schalet's wonderful book, "Not Under My Roof", and can't say enough good things about it. It's easy to read and understand. As the CEO of an almost 100-year-old nonprofit, the American Social Health Association, whose purpose is to educate American's about how to be sexually healthy, this book is spot on. We tell people every day that parents are critical in starting a child on a sexually healthy life. It is my sincere hope that every parent will read this book.
As the parent of a 23 and 17-year-old, I am humbled by how very much I had to learn. From the first time I heard Amy speak, I was forever changed as a parent. Thank you Amy!"
— Lynn B. Barclay
"Not Under My Roof is a thought-provoking sociological treatise rooted in the lives and words of real people. The material is sophisticated, but the writing is clear and direct, which makes it a pleasure to read.  Dr. Schalet's meticulous research gleans the perspectives of teens and their parents in both the U.S. and Holland, offering poignant insight into the struggles over emerging sexuality that occur in the transition from adolescence to adulthood.  Hers is a lucid window into another culture that may help us to more clearly see ourselves."
— Jillian Henderson, University of California, San Francisco
"Amy Schalet's book compares the sexual attitudes of American and Dutch parents and her findings are nothing short of staggering: Whereas most American parents panic about the idea of allowing their kids to have sex with other kids under their roof, for many Dutch parents, it's not only fine — it's responsible parenting. . . . Schalet's extensively researched, fascinating work . . . is a startling wake-up call about America's largely misguided attitudes toward sex and growing up."
— Salon
"Her book starts in the adolescent bedroom, and ends up explaining why the US is so conservative on social issues and the Netherlands so liberal."—Financial Times
— Financial Times
"This is a thorough and intriguing look at how attitudes about sexuality have developed in each country since the 1970s. The author presents a brief but convincing discussion of how the economic and political systems in Holland and the US evolved to create the cultural frameworks that led Dutch parents to normalize teenage sexuality and US parents to dramatize it. Schalet has juxtaposed US and Dutch cultural histories, family values, and societal attitudes about such seemingly diverse issues as sexuality, immigration, and the intersection of individual autonomy and state sovereignty to produce a fascinating look into the origins and consequences of two diametrically opposed paradigms of adolescent sexuality. . . . Highly recommended."
— Choice
"
Not Under My Roof
is a fascinating book. I have told all of my friends who have teenagers to read it. I also recommend it for classroom use. College students will immediately grasp how society shapes their experiences of sex, drugs, and alcohol."
— American Journal of Sociology
"[An] engaging and informative monograph. . .  .Lucid and highly attuned to the complexities of human experience,
Not Under My Roof
should find a welcome place in advanced undergraduate and graduate courses on sexuality, gender, and culture and should be required reading for scholars in those areas, as well as for makers of public policy."
— Gender and Society
Winner of the Healthy Teen Network's Carol Mendez Cassell Award for Excellence in Sexuality Education
— Healthy Teen Network
ASA Children and Youth Section's 2012 Distinguished Scholarly Research Award
— American Sociological Association
"The analyses and insights are mightily impressive. . . . Schalet's own background has enabled her to be both an insider and an outsider in her observations in both countries, and this advantage has clearly been maximised. A very important work, and very strongly recommended."
— Sex Education
University of Chicago Press, 9780226736198, 312pp.
Publication Date: November 1, 2011
About the Author
Amy T. Schalet is assistant professor of sociology at the University of Massachusetts, Amherst.