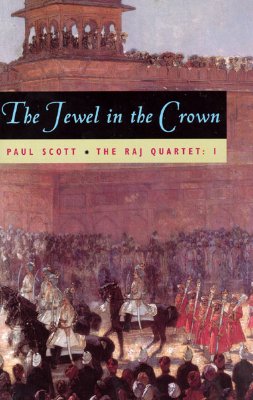 The Raj Quartet, Volume 1 (Paperback)
The Jewel in the Crown (Phoenix Fiction #1)
University of Chicago Press, 9780226743400, 472pp.
Publication Date: May 22, 1998
* Individual store prices may vary.
Description
No set of novels so richly recreates the last days of India under British rule—"two nations locked in an imperial embrace"—as Paul Scott's historical tour de force, The Raj Quartet. The Jewel in the Crown opens in 1942 as the British fear both Japanese invasion and Indian demands for independence. On the night after the Indian Congress Party votes to support Ghandi, riots break out and an ambitious police sargeant arrests a young Indian for the alleged rape of the woman they both love.

About the Author
Paul Scott (1920-78) was a British novelist best known for the tetralogy The Raj Quartet, published by the University of Chicago Press. Scott was drafted into the British Army during World War II and was stationed in India, an experience which shaped much of his literary work. The University of Chicago Press has also published his novels The Birds of Paradise, The Chinese Love Pavilion, Six Days in Marapore and Staying On, the latter of which won the Booker Prize for 1977.
Praise For The Raj Quartet, Volume 1: The Jewel in the Crown (Phoenix Fiction #1)…
"Paul Scott's vision is both precise and painterly. Like an engraver crosshatching I the illusion of fullness, he selects nuances that will make his characters take on depth and poignancy."
— Jean G. Zorn
"One has to admire Mr. Scott's gifts as a buttonholing storyteller, and his rich, close-textured prose; his descriptions of action and of certain kinds of relationships are superb."
— Guardian
"What has always astonished me about The Raj Quartet is its sense of sophisticated and total control of its gigantic scenario and highly varied characters. The four volumes constitute perfectly interlocking movement of a grand overall design. The politics are handled with an expertise that intrigues and never bores, and are always seen in terms of individuals."
— Peter Green