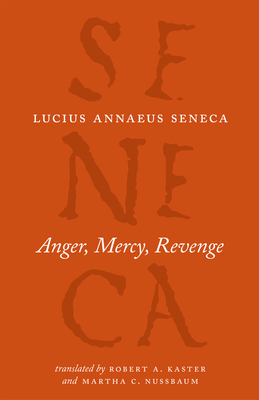 Anger, Mercy, Revenge (The Complete Works of Lucius Annaeus Seneca) (Paperback)
University of Chicago Press, 9780226748429, 272pp.
Publication Date: November 20, 2012
Other Editions of This Title:
Hardcover (7/15/2010)
* Individual store prices may vary.
Description
Lucius Annaeus Seneca (4 BCE–65 CE) was a Roman Stoic philosopher, dramatist, statesman, and adviser to the emperor Nero, all during the Silver Age of Latin literature. The Complete Works of Lucius Annaeus Seneca is a fresh and compelling series of new English-language translations of his works in eight accessible volumes. Edited by world-renowned classicists Elizabeth Asmis, Shadi Bartsch, and Martha C. Nussbaum, this engaging collection restores Seneca—whose works have been highly praised by modern authors from Desiderius Erasmus to Ralph Waldo Emerson—to his rightful place among the classical writers most widely studied in the humanities.
Anger, Mercy, Revenge comprises three key writings: the moral essays On Anger and On Clemency—which were penned as advice for the then young emperor, Nero—and the Apocolocyntosis, a brilliant satire lampooning the end of the reign of Claudius. Friend and tutor, as well as philosopher, Seneca welcomed the age of Nero in tones alternately serious, poetic, and comic—making Anger, Mercy, Revenge a work just as complicated, astute, and ambitious as its author.
About the Author
Robert A. Kaster is professor of classics and the Kennedy Foundation Professor of Latin Language and Literature at Princeton University. He is the author of Emotion, Restraint, and Community in Ancient Rome, among other volumes.  Martha C. Nussbaum is the Ernst Freund Distinguished Service Professor of Law and Ethics at the University of Chicago and author of Not for Profit: Why Democracy Needs the Humanities and Creating Capabilities: The Human Development Approach, among other volumes.
Praise For Anger, Mercy, Revenge (The Complete Works of Lucius Annaeus Seneca)…
"The translations strike that difficult balance between fidelity to the original and natural English idiom. Latinless readers will not be confused, philosophically minded readers will appreciate the citations, and classicists will find in the notes the discussion and arguments they may want to clarify the original....An admirable effort to bring Seneca to a wider audience."—Bryn Mawr Classical Review
— Bryn Mawr Classical Review
"The translations are faithful and lively. . . . Although the translators take Seneca seriously as a moralizing philosopher, their introductions and annotations—though attentive to the literary and rhetorical qualities Seneca's writing displays—are not technical in terms of philosophy. Accordingly, they will be accessible to any intelligent reader."
— Choice
"The translation is certainly a great improvement over Rouse's Loeb (revised by Warmington) and also captures the work's 'flippant vulgarisms' better than P.T. Eden's 1984 translation. It is arguably Nussbaum's greatest accomplishment that her version is actually funny. . .Nussbaum's translations preserve various aspects of Seneca's poetic style, including self-parodies of his tragic diction and fondness for alliteration, but they are also, simply put, poetic. This is a beautifully produced book and virtually free of typographical errors. It is certainly a welcome addition to the existing English translations of Seneca's works, and the philosophically informed introductions, clear notes on the corrupt and lacuna-filled text, and suggested 'selected readings' make it one of the best places for make it one of the best places for students or non-specialists to go when beginning to approach Seneca."
— Mouseion: Journal of the Classical Association of Canada