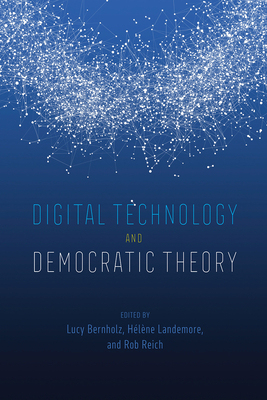 Digital Technology and Democratic Theory
Paperback

* Individual store prices may vary.
Other Editions of This Title:
Hardcover (2/5/2021)
Description
One of the most far-reaching transformations in our era is the wave of digital technologies rolling over—and upending—nearly every aspect of life. Work and leisure, family and friendship, community and citizenship have all been modified by now-ubiquitous digital tools and platforms. Digital Technology and Democratic Theory looks closely at one significant facet of our rapidly evolving digital lives: how technology is radically changing our lives as citizens and participants in democratic governments.
To understand these transformations, this book brings together contributions by scholars from multiple disciplines to wrestle with the question of how digital technologies shape, reshape, and affect fundamental questions about democracy and democratic theory. As expectations have whiplashed—from Twitter optimism in the wake of the Arab Spring to Facebook pessimism in the wake of the 2016 US election—the time is ripe for a more sober and long-term assessment. How should we take stock of digital technologies and their promise and peril for reshaping democratic societies and institutions? To answer, this volume broaches the most pressing technological changes and issues facing democracy as a philosophy and an institution.
 
Praise For Digital Technology and Democratic Theory…
"At a moment when democracy around the world is being weakened, challenged, and attacked, this volume is a timely and essential addition that will help its audience understand the affordances—but also the very real detrimental effects—of social media in society on our governing principles and institutions. We urgently need this expert realist approach and global perspective if we are to have any chance of effectively engaging with these tech firms and their technologies and any hope of guarding democracy against the outsize impact of both."
— Sarah T. Roberts, University of California, Los Angeles
"This book serves the much-needed purpose of advancing the conversation about the impact of technology on democratic theory and the role of democratic theory in helping us to understand the relationship between technology and power. This diverse collection of essays addresses how to reimagine the informational diet of democracy, free speech and association, the boundaries of the demos and political exclusion. An important and engaging read!"
— Beth Simone Noveck, director, The Governance Lab
University of Chicago Press, 9780226748573, 344pp.
Publication Date: February 1, 2021
About the Author
Lucy Bernholz is a senior scholar at the Center on Philanthropy and Civil Society and codirector of the Digital Civil Society Lab at Stanford University.