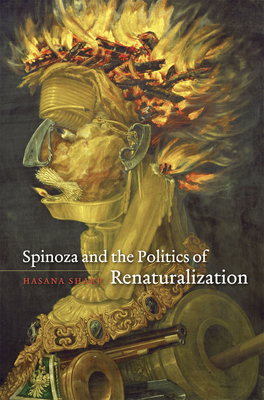 Spinoza and the Politics of Renaturalization
Hardcover

* Individual store prices may vary.
Other Editions of This Title:
Paperback (12/25/2020)
Description
There have been many Spinozas over the centuries: atheist, romantic pantheist, great thinker of the multitude, advocate of the liberated individual, and rigorous rationalist. The common thread connecting all of these clashing perspectives is Spinoza's naturalism, the idea that humanity is part of nature, not above it.
In this sophisticated new interpretation of Spinoza's iconoclastic philosophy, Hasana Sharp draws on his uncompromising naturalism to rethink human agency, ethics, and political practice. Sharp uses Spinoza to outline a practical wisdom of "renaturalization," showing how ideas, actions, and institutions are never merely products of human intention or design, but outcomes of the complex relationships among natural forces beyond our control. This lack of a metaphysical or moral division between humanity and the rest of nature, Sharp contends, can provide the basis for an ethical and political practice free from the tendency to view ourselves as either gods or beasts.
Sharp's groundbreaking argument critically engages with important contemporary thinkers—including deep ecologists, feminists, and race and critical theorists—making Spinoza and the Politics of Renaturalization vital for a wide range of scholars.
Praise For Spinoza and the Politics of Renaturalization…
"Through luminous and erudite readings of the texts, Hasana Sharp shows us how profound and radical is Spinoza's conception of nature and his claim that humans always remain part of nature, acting solely according to the same rules. She demonstrates the political consequences of adopting this perspective through a provocative intervention in contemporary feminist theory, while along the way opening promising avenues for future work in a variety of other fields, such as animal studies and ecology. This is a challenging and important book."
— Michael Hardt, coauthor of Empire , Multitude , and Commonwealth
"Hasana Sharp has demonstrated an acute awareness of the need for a new kind of politics and ethics to represent the present. It is ironically Spinoza, whose works have elaborated an enabling nature, who may provide the tools for the creation of this new framework to rethink life, nature, and power. This book presents an incisive reading of Spinoza as the philosopher whose renaturalization of the human opens up new ways of thinking about individuality, collectivity, and power. Spinoza has finally become indispensable for feminist, postcolonial, and antiracist struggles!"
— Elizabeth Grosz, Rutgers University
"Hasana Sharp is the first to attempt rigorously and comprehensively to examine the theoretical and, even more, the political effects of what she calls Spinoza's project of renaturalization. To speak of renaturalization, of course, implies that philosophy before and after Spinoza sought, often without any clear awareness of its activity, to denaturalize thought, as if this denaturalization was the very work of philosophy as such. Sharp guides us with great care and precision through the baroque, if not rococo, interiors of Spinoza's philosophy, demonstrating that his complexity is neither a sign of incoherence nor an elaborate ruse, but the necessary consequence of his attempt to think what was regarded as the unthinkable: the mutual immanence of the human and the natural. The illumination of Spinoza's renaturalization is possible, as Sharp shows, only through an encounter with the most powerful currents of contemporary thought from Marxism and feminism to ecology. I believe that this book will mark a turning point in our understanding of Spinoza, compelling those who write after it not only to acknowledge it but to take a position in relation to it."
— Warren Montag, Occidental College
"Make no mistake. This book is audacious. Many readers will be taken aback by an account of Spinoza that seems deeply at odds with conventional understandings of the character of 17th-century rationalism and of Spinoza as an important proto-liberal. Moreover, throughout the volume Sharp more often and more closely engages with the work of deep ecologists, feminists, critical race theorists, and posthumanists than with other historians of philosophy. However, the historiography and textual analysis are careful, rigorous, and, in the end, highly plausible. Of the recent spate of work on Spinoza's political philosophy, Spinoza and the Politics of Renaturalization is the most novel, the most ambitious, and quite possibly the most important contribution."
— Shannon Dea
"Sharp demonstrates that Spinoza's metaphysical account of nature has much to contribute to contemporary debates surrounding theories of oppression….Her discussion touches on topics ranging widely from feminism and identity politics to deep ecology and animal rights."
— Choice
"Hasana Sharp's Spinoza and the Politics of Renaturalization is one the most invigorating books published in philosophy this year. Where Deleuzian and post-Althusserian accounts of Spinoza occasionally take all the affect out of one of the tradition's most effective writers, Sharp's book is eminently readable and clear about the stakes of rethinking Spinoza after the linguistic and discursive turns of the last half of the twentieth century."
— Peter Gratton
"Sharp has written a stimulating and thought-provoking book that brings a fresh perspective to many issues that have been occupying center stage in Spinoza's philosophy. Spinoza and the Politics of Renaturalization is a highly commendable book, which makes one look forward to the author's next production."
— Analysis and Metaphysics
"Ecocriticism is in dire need of philosophical support from either new directions or new perspectives on old methods. Hasana Sharp's Spinoza and the Politics of Renaturalization provides just such a new vantage on the writings of Baruch Spinoza, the seventeenth-century Dutch philosopher whose writings have inspired Arne Naess, deep ecology, and much contemporary environmental philosophy. Although not directed toward the study of literature and environment per se, Sharp's exemplary reading of Spinoza (and Spinozists) accrues ample materials for a fruitful re-appreciation of ecocritical thought."
— Andrew Husband
"In [the] more focused and condensed arguments, Sharp emerges as an important new thinker to watch for anyone interested in Spinoza, posthumanism or affective politics"  
— Beth Lord
University of Chicago Press, 9780226750743, 256pp.
Publication Date: August 30, 2011
About the Author
Hasana Sharp is assistant professor of philosophy at McGill University.
or
Not Currently Available for Direct Purchase