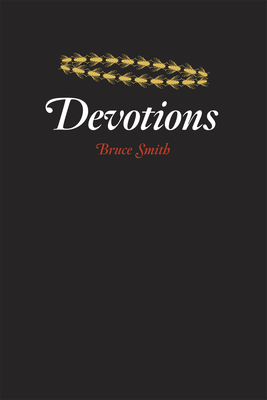 Devotions (Phoenix Poets)
Paperback

* Individual store prices may vary.
Description
In the hands of Bruce Smith, devotions are momentary stops to listen to the motor of history. They are meditations and provocations. They are messages received from the chatter of the street and from transmissions as distant as Memphis and al-Mansur. Bulletins and interruptions come from brutal elsewheres and from the interior where music puts electrodes on the body to take an EKG. These poems visit high schools, laundromats, motels, films, and dreams in order to measure the American hunger and thirst. They are interested in the things we profess to hold most dear as well as what's unspoken and unbidden. While we're driving, while riding a bus, while receiving a call, while passing through an X-ray machine, the personal is intersected—sometimes violently, sometimes tenderly—with the hum and buzz of the culture. The culture, whether New York or Tuscaloosa, Seattle or Philadelphia, past or present, carries the burden of race and "someone's idea of beauty." The poems fluctuate between the two poles of "lullaby and homicide" before taking a vow to remain on earth, to look right and left, to wait and to witness.
Praise For Devotions (Phoenix Poets)…
"Bruce Smith's new poems move fast and travel far. . . . Most books of new poems are either too long or leave readers wanting more. Devotions does neither; it is ample as well as ambitious, agile and unpredictable as well as viscerally affecting. For all that its born-to-run characters yearn for escape, it's a book to stay inside; it's exhausting to read, and yet it's a book to get lost in, one you won't exhaust any time soon."
— Stephen Burt

"Smith's devotions are authoritative and capacious. Neither querulous nor slavish, they give pleasure, which is what we ask of them."
— Library Journal

"In poems alternately sharp, slippery, and tender, Smith finds a way to take in almost everything—'Shooter Protocol,' Charlie Parker, high school shop class—moving seamlessly between critique and embrace. Smith's been closely watched for several books now, and this may be his best collection yet."
— Publishers Weekly

"Devotions reads like a series of protean Ars Poeticas. The poems glow with ghost rhymes, hypnotic catalogues, and lyric enchantments that constitute 'a blues about the rules for distance and difficult love.' Bruce Smith is a poet I always read with awe and hunger. This amazing new book overwhelms me in the best possible ways."
— Terrance Hayes, author of Lighthead , winner of the National Book Award
University of Chicago Press, 9780226764351, 104pp.
Publication Date: April 15, 2011
About the Author
Bruce Smith is professor of English and creative writing at Syracuse University and the author of four books of poems. His book The Other Lover, also published by the University of Chicago Press, was a finalist for both the Pulitzer Prize and the National Book Award.