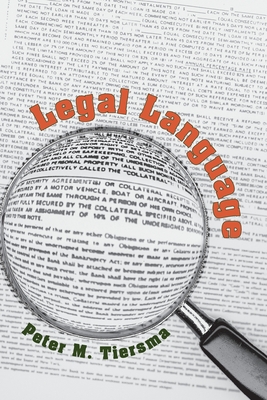 Legal Language (Paperback)
University of Chicago Press, 9780226803036, 328pp.
Publication Date: May 15, 2000
* Individual store prices may vary.
Description
Statutes, judicial opinions, contracts, deeds, and wills profoundly affect our daily lives, but their language tends to be often nearly impossible to understand. In this lively history of legal language, Peter Tiersma slices through the thicket of legalese, explaining where it comes from, why lawyers continue to cling to it, and why it's doesn't have to be an inevitable feature of our legal system.

"Legal Language will resonate with lawyers . . . and any non-lawyer who has waded through legal documents, or has tuned in to the latest trial on Court TV."—Carmie D. Boccuzzi, Jr., Boston Book Review

"[A] masterful, highly readable, and enjoyable book. . . . Legal Language is truly a fun book to read."—David Schultz, Law and Politics Book Review
About the Author
Peter M. Tiersma is professor at Loyola University Law School. They are the authors, respectively, of The Language of Judges and Legal Language, both published by the University of Chicago Press.