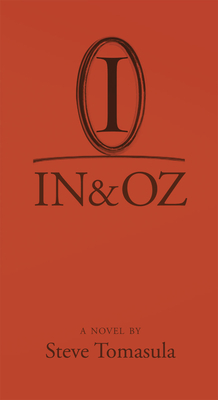 IN & OZ (Paperback)
A Novel
University of Chicago Press, 9780226807447, 152pp.
Publication Date: April 25, 2012
Other Editions of This Title:
Hardcover (9/1/2005)
* Individual store prices may vary.
Description
Steve Tomasula is a novelist like no other; his experiments in narrative and design have won him a loyal following. Exemplifying Tomasula's style, IN & OZ is a heady, avant-garde book, rooted in convincing characters even as it simultaneously subverts the genre of novel and moves it forward.

IN & OZ is a novel of art, love, and auto mechanics. The story follows five different characters—an auto designer, photographer, musical composer, poet/sculptor, and mechanic—who live in two very different places: IN, a back-alley here and now; and OZ, which reflects the desire for somewhere better. The men and women who populate Tomasula's landscape desperately hope to fill a void in their lives through a variety of media: music, language, dirt, light, and automobiles. As the plot moves forward, the story of the residents of INand that of their counterparts in OZconverge. A fanciful allegory that tackles class relations, art, commerce, and language, IN & OZ is a tale of the human condition that is as visually compelling as it is moving.

A novel not only for fiction lovers, but also for artists of all stripes, IN & OZ creates a fantasy that illumines our own world as it lucidly builds its own.
About the Author
Steve Tomasula is the author of a number of novels, including "The Book of Portraiture" and "VAS: An Opera in Flatland," also published by the University of Chicago Press. His new-media novel "TOC" received the Mary Shelly Award for Excellence in Fiction, and the Gold Medal, Best Book of the Year, in the eLit Awards. He teaches fiction writing and twentieth- and twenty-first-century literature at the University of Notre Dame. A Howard Fellow, he lives in Chicago, where he is completing a novel about extinction."
Praise For IN & OZ: A Novel…
"Not very far in the future, things are a lot like now only more so. . . .The walls of class do not fall, though, in this eccentric but worthy descendant of Huxley's fatally bittersweet Brave New World."—Booklist
— Booklist
"The author's signature intelligence, at once quirky, mannered, uncanny, removed, and satiric, continues to manifest itself in spades. . . . IN & OZ bears a family resemblance to Orwell's Animal Farm in its political awareness and fabulist inclination, Barthelme's Dead Father in its stylized absurdity and abstract intellect, and Diderot's Rameau's Nephew in its fusion of cool aesthetic contemplation and fictive techniques."—American Book Review
— American Book Review
or
Not Currently Available for Direct Purchase