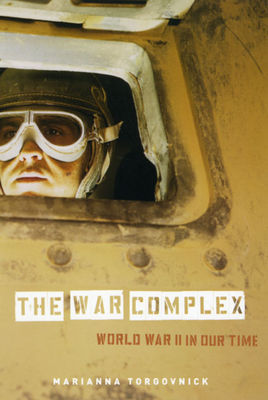 The War Complex (Hardcover)
World War II in Our Time
University of Chicago Press, 9780226808550, 224pp.
Publication Date: May 1, 2005
Other Editions of This Title:
Paperback (6/1/2008)
* Individual store prices may vary.
Description
The recent dedication of the World War II memorial and the sixtieth-anniversary commemoration of D-Day remind us of the hold that World War II still has over America's sense of itself. But the selective process of memory has radically shaped our picture of the conflict. Why else, for instance, was a 1995 Smithsonian exhibition on Hiroshima that was to include photographs of the first atomic bomb victims, along with their testimonials, considered so controversial? And why do we so readily remember the civilian bombings of Britain but not those of Dresden, Hamburg, and Tokyo?

Marianna Torgovnick argues that we have lived, since the end of World War II, under the power of a war complex—a set of repressed ideas and impulses that stems from our unresolved attitudes toward the technological acceleration of mass death. This complex has led to gaps and hesitations in public discourse about atrocities committed during the war itself. And it remains an enduring wartime consciousness, one most recently animated on September 11.

Showing how different events from World War II became prominent in American cultural memory while others went forgotten or remain hidden in plain sight, The War Complex moves deftly from war films and historical works to television specials and popular magazines to define the image and influence of World War II in our time. Torgovnick also explores the 1961 trial of Adolf Eichmann, the emotional legacy of the Holocaust, and the treatment of World War II's missing history by writers such as W. G. Sebald to reveal the unease we feel at our dependence on those who hold the power of total war. Thinking anew, then, about how we account for war to each other and ourselves, Torgovnick ultimately, and movingly, shows how these anxieties and fears have prepared us to think about September 11 and our current war in Iraq.

About the Author
Marianna Torgovnick is professor of English at Duke University and director of Duke's New York Program in Arts and Media. She is the author of numerous works, including Primitive Passions: Men, Women, and the Quest for Ecstasy, Gone Primitive: Modern Intellects, Savage Lives, and Crossing Ocean Parkway, also published by the University of Chicago Press.
Praise For The War Complex: World War II in Our Time…
"Torgovnick has begun to do for the Second World War what for some years now thoughtful scholars and critics have done for the Civil War: to explore how our patriotism can survive if we acknowledge terrible truths. Her promising ethical solution transcends identity politics in a way that should open important further discussion."
— Jonathan Arac
"An audaciously wide-ranging cultural critique of how World War II has entered contemporary modern memory and consciousness. This is an important and illuminating book that will have a large and receptive audience."
— James E. Young
"Through personal rumination and inventive analysis, Torgovnick offers an inspiring model for a new way to write cultural history. Her lucid, companionable voice leads us through nightmare with exemplary generosity and intelligence."
— Wayne Koestenbaum
"A beautifully written meditation, at once wide ranging and intensely focused by the master thesis that at the heart of modernity lies the consciousness of war and the spectacle-horrifying and yet strangely narcotic-of mass death."
— Stanley Fish
"Marianna Torgovnick is one of our most brilliant and probing cultural critics."
— Joyce Carol Oates
CHOICE Outstanding Academic Title for 2006
— CHOICE
"A provoking and ethical book. . . . In an age when information is ephemeral, any book which recovers forgotten history is laudable."
— James Ervin
"This book is wide-ranging, moving beyond American matters and authors. As a postmodernist critical approach, it succeeds in contextualizing American reactions to World War II by going deeper than national boundaries and impersonal narration."
— Eric Solomon
"Togovnick's book should find a wide readership among scholars of international relations who hope to understand how cultural reporesentations can shape attitudes towards past and future conflicts."
— Ronald J. Granieri
"Torgovnick serves as a kind of quirky and compelling guide on a walking tour of popular memory, drawing us in with her enthusiasm for her subject and provoking us to notice—and to think deeply about—the cultural and literary landscape of the post-World War II era."
— Tami Davis Biddle
or
Not Currently Available for Direct Purchase