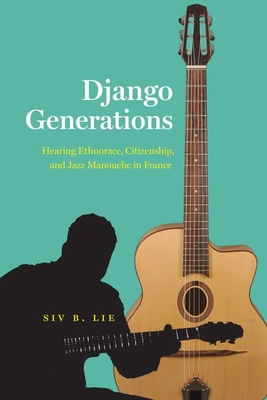 Django Generations
Hearing Ethnorace, Citizenship, and Jazz Manouche in France (Chicago Studies in Ethnomusicology)
Hardcover

* Individual store prices may vary.
Other Editions of This Title:
Paperback (10/22/2021)
Description
Django Generations shows how relationships between racial identities, jazz, and national belonging become entangled in France.

Jazz manouche—a genre known best for its energetic, guitar-centric swing tunes—is among France's most celebrated musical practices of the twentieth and twenty-first centuries. It centers on the recorded work of famed guitarist Django Reinhardt and is named for the ethnoracial subgroup of Romanies (also known, often pejoratively, as "Gypsies") to which Reinhardt belonged. French Manouches are publicly lauded as bearers of this jazz tradition, and many take pleasure and pride in the practice while at the same time facing pervasive discrimination. Jazz manouche uncovers a contradiction at the heart of France's assimilationist republican ideals: the music is portrayed as quintessentially French even as Manouches themselves endure treatment as racial others.

In this book, Siv B. Lie explores how this music is used to construct divergent ethnoracial and national identities in a context where discussions of race are otherwise censured. Weaving together ethnographic and historical analysis, Lie shows that jazz manouche becomes a source of profound ambivalence as it generates ethnoracial difference and socioeconomic exclusion. As the first full-length ethnographic study of French jazz to be published in English, this book enriches anthropological, ethnomusicological, and historical scholarship on global jazz, race and ethnicity, and citizenship while showing how music can be an important but insufficient tool in struggles for racial and economic justice.
 
Praise For Django Generations: Hearing Ethnorace, Citizenship, and Jazz Manouche in France (Chicago Studies in Ethnomusicology)…
"Django Generations offers a profound analysis of how Manouche Romanies navigate French denials of race and racism through what Siv B. Lie calls 'ambivalent essentialism'—the set of incompatible qualities ascribed by and to this ethnicized and racialized group whose most famous ancestor is the guitarist Django Reinhardt. Drawing on deep ethnographic and historical research, Lie brilliantly develops a semiotic framework that both explicates the development and negotiation of local identities in jazz manouche and their connection to much broader processes of managing marginalization and the exigencies of capitalism.""
— Ingrid Monson, Quincy Jones Professor of African American Music, Harvard University

"A necessary addition for ethnomusicologists and scholars of Romani music, Django Generations is aptly named because it gives voice to groups of Romani musicians who are forging contemporary identities in modern contexts while acknowledging past histories and cultural roots."
— Adriana Helbig, University of Pittsburgh

"In this book, Siv B. Lie explores the paradoxes of jazz manouche's history and its relationship to the Manouche community without taking sides in the complex debates between musicians, institutions, and the industry. Django Generations is a work of considerable intellectual sophistication."
— Andy Fry, King's College London
University of Chicago Press, 9780226810812, 248pp.
Publication Date: October 26, 2021
About the Author
Siv B. Lie is assistant professor of music at the University of Maryland.