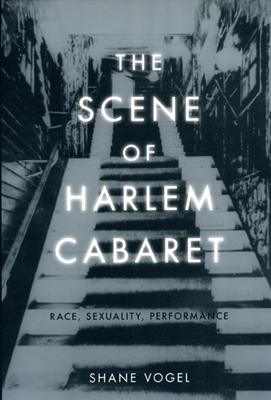 The Scene of Harlem Cabaret: Race, Sexuality, Performance (Paperback)
Race, Sexuality, Performance
University of Chicago Press, 9780226862521, 257pp.
Publication Date: April 1, 2009
Description
Harlem's nightclubs in the 1920s and 30s were a crucible for testing society's racial and sexual limits. Normally tacit divisions were there made spectacularly public in the vibrant, but often fraught, relationship between performer and audience. The cabaret scene, Shane Vogel contends, also played a key role in the Harlem Renaissance by offering an alternative to the politics of sexual respectability and racial uplift that sought to dictate the proper subject matter for black arts and letters. Individually and collectively, luminaries such as Duke Ellington, Lena Horne, Langston Hughes, Claude McKay, Wallace Thurman, and Ethel Waters expanded the possibilities of blackness and sexuality in America, resulting in a queer nightlife that flourished in music, in print, and on stage.
Deftly combining performance theory, literary criticism, historical research, and biographical study, "The Scene of Harlem Cabaret" brings this rich moment in history to life, while exploring the role of nightlife performance as a definitive touchstone for understanding the racial and sexual politics of the early twentieth century.
About the Author
Shane Vogel is assistant professor of English at Indiana University.
Praise For The Scene of Harlem Cabaret: Race, Sexuality, Performance…
"Evocative, elegant, and engrossing are words that characterize this lively study that resurrects the lush, smoke-filled atmosphere of Harlem cabarets. Reading the contested space of the cabaret as material to compose and perform alternative narratives of race and sex, this study makes visceral the queer intimacies of cabaret's everynight life and analyzes the lives of performers from Lena Horne, Bricktop, and Ethel Waters, poetic works by Claude McKay and Langston Hughes, and embodied movements of audiences. Scholars in performance studies, history, literary modernism, and queer theory have much to learn from this excellent book."—Jennifer DeVere Brody, Duke University


-Jennifer DeVere Brody

"In The Scene of Harlem Cabaret, Shane Vogel combines performance studies and literary studies with deftness, acuity, and prescience, looking boldly to the future of the field. His illuminating thesis about the generative experiences produced by these jook-joint, honky-tonk, sin-cellar, concert-saloon night spots—small enough for 'public intimacy,' large enough for social 'breathing space' and 'wiggle room'—reimagines the works of the 'Cabaret School' in a new light, proving not that life is a cabaret, but that cabaret was a life for some the greatest American artists of the twentieth century—vital, risky, and transformative."—Joseph Roach, Yale University

-Joseph Roach

"At the turn of the last century, W. E. B. Du Bois took up what he called 'the problem of amusement' with prescience as well as reticence. That problem is now taken up again by Shane Vogel with the kind of rigorous critical imagination that would disturb and, finally, gratify Du Bois, forcing him literally and figuratively to attend (to) scenes he might otherwise strenuously have avoided. Vogel illuminates and amplifies in too many ways to count the singular cultural politics of the scene of Harlem cabaret. Happily, he gives us occasion once again to consider how the terrible ruses and potential reconstruction of democracy in America are marked, on the one hand, and initialized, on the other, in our ludic underground."—Fred Moten, Duke University

-Fred Moten

"Vogel provides an overview of cabaret in the U.S. and its relation to other stage modes; looks at representations of the Harlem cabaret scene (visual, literary, musical); and offers a compelling discussion of ''closing time'' as a liminal, queer space that appealed to artists."--Choice

"Both queer and literary theorists will find much to admire in this study. . . . Vogel has constructed his thesis on solid evidence and scholarly research. Those general readers who are slowed down by some of the theoretical terminology are encouraged to persevere, for the book provides valuable, candid insights into an important era of American cultural history."
-Eugene Hayworth

"Vogel's best passages are brimming with arresting ideas and brilliant observations. He has mined some very recondite archives to illuminate the conditions of the cabaret's alterity and resistance. Few scholars have trawled through the voluminous but elusive material of the cabaret, largely because few scholars have Vogel's knack for making poignant sense of what occurs in late-night enclaves. This is groundbreaking work, telling a rarely told tale both compassionately and powerfully."

"An artful intersection of literary and performance studies, The Scene of Harlem Cabaret combines rich readings of the so-called Cabaret School of Harlem Renaissance writers with an innovative study of the cabaret itself. . . . Vogel ''reads'' the cabaret both as an object of literary imagination and as a social text, a method that affords him new approaches to the evanescent evidences of the queer, black, and underground."


-Tavia Nyong'o
Advertisement