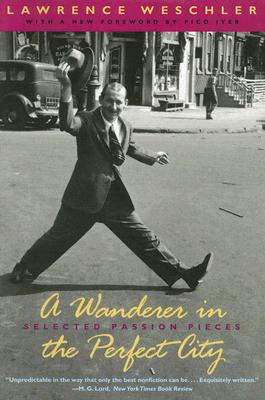 A Wanderer in the Perfect City
Selected Passion Pieces
Paperback

* Individual store prices may vary.
Description
"There is something both marvelous and hilarious," writes Lawrence Weschler, "in watching the humdrum suddenly take flight. This is, in part, a collection of such launchings."

Indeed, the eight essays collected in A Wanderer in the Perfect City do soar into the realm of passion as Weschler profiles people who "were just moseying down the street one day, minding their own business, when suddenly and almost spontaneously, they caught fire, they became obsessed, they became intensely focused and intensely alive." With keen observations and graceful prose, Weschler carries us along as a teacher  of rudimentary English from India decides that his destiny is to promote the paintings of an obscure American abstract expressionist; a gifted poker player invents a more exciting version of chess; an avant-garde Russian émigré conductor speaks Latin, exclusively, to his infant daughter; and Art Spiegelman composes Maus. But simple summaries can't do these stories justice: like music, they derive their character from digressions and details, cadence and tone. And like the upwelling of passion Weschler's characters feel, they are better experienced than explained.  

"Weschler seems so hungry for life that the rest of us become hungry for him . . . a magician, a performer, and a scholar. All in one."—from the Foreword by Pico Iyer 

"Weschler's essays are exquisitely written—so perfectly and unobtrusively organized that one can't imagine telling them a better way." —New York Times Book Review
"Weschler is the owner of a large dose of novelistic vision, and a particularly poetic set of ears, but . . . as important an endowment as a novelist's eye or a poet's ear is still the journalistic nose which led him down the proverbial alley."—National Post (Canada) 

"Weschler is a thoughtful observer and a superb storyteller."—Minneapolis Star Tribune


University of Chicago Press, 9780226893907, 308pp.
Publication Date: April 1, 2006
About the Author
A widely honored journalist, Lawrence Weschler is the director of the New York Institute for the Humanities at New York University. He is the author of twelve books, including Mr. Wilson's Cabinet of Wonder, Vermeer in Bosnia, and, most recently, Everything That Rises: A Book of Convergences.
or
Not Currently Available for Direct Purchase