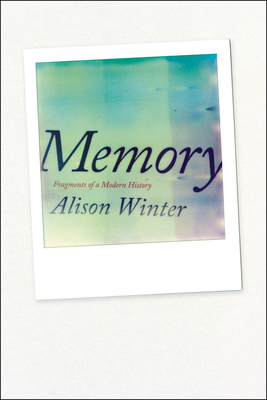 Memory (Hardcover)
Fragments of a Modern History
University of Chicago Press, 9780226902586, 336pp.
Publication Date: January 16, 2012
* Individual store prices may vary.
Description
Picture your twenty-first birthday. Did you have a party? If so, do you remember who was there? Now step back: how clear are those memories? Should we trust them to be accurate, or is there a chance that you're remembering incorrectly? And where have the many details you can no longer recall gone? Are they hidden somewhere in your brain, or are they gone forever?

Such questions have fascinated scientists for hundreds of years, and, as Alison Winter shows in Memory: Fragments of a Modern History, the answers have changed dramatically in just the past century. Tracing the cultural and scientific history of our understanding of memory, Winter explores early metaphors that likened memory to a filing cabinet; later, she shows, that cabinet was replaced by the image of a reel of film, ever available for playback. That model, too, was eventually superseded, replaced by the current understanding of memory as the result of an extremely complicated, brain-wide web of cells and systems that together assemble our pasts. Winter introduces us to innovative scientists and sensationalistic seekers, and, drawing on evidence ranging from scientific papers to diaries to movies, explores the way that new understandings from the laboratory have seeped out into psychiatrists' offices, courtrooms, and the culture at large. Along the way, she investigates the sensational battles over the validity of repressed memories that raged through the 1980s and shows us how changes in technology—such as the emergence of recording devices and computers—have again and again altered the way we conceptualize, and even try to study, the ways we remember.

Packed with fascinating details and curious episodes from the convoluted history of memory science, Memory is a book you'll remember long after you close its cover.
About the Author
Alison Winter (1965-2016) was a professor of history at the University of Chicago. She taught at Cambridge University and the California Institute of Technology before coming to Chicago in 2001. Her research encompassed the history of sciences of mind, the history of modern medicine, modern British history (especially the Victorian era), and historical issues of gender. She was the author of Mesmerized: Powers of Mind in Victorian Britain and Memory: Fragments of a Modern History. The latter book won the Gordon J. Laing Prize in 2014.
Praise For Memory: Fragments of a Modern History…
"A deft study of twentieth-century memory controversies."
— Jenny Diski
"Riveting."
"Impressive. . . . Winter has done an admirable job synthesizing many diverse sources into a tidy cultural history. . . . A compelling demonstration that the science of memory—like all science—is both a product of and an influence on the culture from which it springs."
"A brilliantly researched and highly readable account of scientific, quasi-scientific and just plain quack approaches to the way we remember."
"A brilliant, original history of the intertwined theories of memory and attempts to recall past experience. Winter writes with engaging discernment about the clinic and the courtroom, trauma and therapy, neuroscience and neurospeculation, bringing to revealing life disputes about the reliability of memory that have arisen in the law, the laboratory, and the media."
— Daniel Kevles, Yale University
"There is no other book like this--a deeply researched, vividly written, marvelously accessible account of (not quite) a dozen important episodes in what Alison Winter calls the 'sciences of recall' in the twentieth century. A hugely enjoyable read, full of new information and valuable insights."
— Ruth Leys, Johns Hopkins University
"Good books on memory are made of this: sophisticated ideas, subtle observations, and an engaging style. This one by Alison Winter is better than simply good. It's splendid."
— Douwe Draaisma, author of Disturbances of the Mind
or
Not Currently Available for Direct Purchase