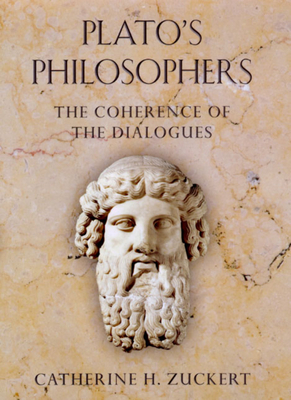 Plato's Philosophers
The Coherence of the Dialogues
Hardcover

* Individual store prices may vary.
Other Editions of This Title:
Paperback (10/30/2012)
Description
Faced with the difficult task of discerning Plato's true ideas from the contradictory voices he used to express them, scholars have never fully made sense of the many incompatibilities within and between the dialogues. In the magisterial Plato's Philosophers, Catherine Zuckert explains for the first time how these prose dramas cohere to reveal a comprehensive Platonic understanding of philosophy.
To expose this coherence, Zuckert examines the dialogues not in their supposed order of composition but according to the dramatic order in which Plato indicates they took place. This unconventional arrangement lays bare a narrative of the rise, development, and limitations of Socratic philosophy. In the drama's earliest dialogues, for example, non-Socratic philosophers introduce the political and philosophical problems to which Socrates tries to respond. A second dramatic group shows how Socrates develops his distinctive philosophical style. And, finally, the later dialogues feature interlocutors who reveal his philosophy's limitations. Despite these limitations, Zuckert concludes, Plato made Socrates the dialogues' central figure because Socrates raises the fundamental human question: what is the best way to live?
Plato's dramatization of Socratic imperfections suggests, moreover, that he recognized the apparently unbridgeable gap between our understandings of human life and the nonhuman world. At a time when this gap continues to raise questions—about the division between sciences and the humanities and the potentially dehumanizing effects of scientific progress—Zuckert's brilliant interpretation of the entire Platonic corpus offers genuinely new insights into worlds past and present.
Praise For Plato's Philosophers: The Coherence of the Dialogues…
"Embracing the challenge of the Platonic corpus as a whole, Catherine Zuckert uncovers its overarching narrative: by tracing a path through the dialogues in a sequence of dramatic dating, while contrasting Socrates with Plato's other philosophical spokesmen, Zuckert's comprehensive and thought-provoking study brings to light the Platonic understanding of the problems bequeathed to Socrates by his predecessors, the development of his response and its limits, and finally the superiority of Socratic philosophy to its alternatives."
— Ronna Burger, Tulane University
"In Platonic studies there is little agreement on how the dialogues are to be read as a whole. Dislocating our sense of the chronology of the dialogues, Catherine Zuckert's Plato's Philosophers presents both a dramatic challenge to the reader of Plato's dialogues as a whole and a clear and penetrating analysis of the dialogues and their interconnections."
— Diskin Clay, Duke University
"Very few scholars have attempted to discuss all thirty-five dialogues, and no one before Catherine Zuckert had to my knowledge followed their dramatic order in doing so. This order informs her reading, but does not govern it; she considers each dialogue individually, allowing the thought of each character to stand out on its own.  Her approach unquestionably brings out features of the dialogues that would otherwise remain unnoticed. The exercise of trying to get a handle on Plato as a whole is one that anyone who is serious about understanding the dialogues should undertake, and Zuckert's labors have made it easier for us to do so."
— Jacob Howland, University of Tulsa
2009
Choice
Outstanding Academic Title
— Choice
"Brimming with original insights, this massive book offers a comprehensive vision of the entire Platonic corpus. . . . Both analytic philosophers . . . and literary interpreters, who eschew argument in favor of artistic structure and presentation of character, will profit from engagement with this brilliant study. . . . This book will allow scholars of all persuasions to make discoveries at every turn as the author guides them through territory they thought they knew well."—
Choice
— Choice
"No serious student of Plato could fail to benefit from [Zuckert's] careful, intelligent, probing, and illuminating discussions. . . . An important, impressive, and, one hopes, lasting book."
— Mark Blitz
University of Chicago Press, 9780226993355, 896pp.
Publication Date: June 1, 2009
About the Author
Catherine H. Zuckert is the Nancy R. Dreux Professor of Political Science at the University of Notre Dame. She is the author of Postmodern Platos and coauthor of The Truth about Leo Strauss, both published by the University of Chicago Press.